Anne K. Ream
• Founder of The Voices and Faces Project
• A founding co-chair at World Without Exploitation
• Author of Lived Through This: Listening to the Stories of Sexual Violence Survivors (Beacon Press)
Our Stories Are Our Power: The role of survivor testimony in personal healing and political change. A multimedia talk.
In 2006, writer Anne K. Ream and photographer Patricia Evans embarked on a multi country, multiyear journey. Their goal was to document the stories of a global community of gender-based violence survivors who have been shaped— but refuse to be defined— by what they have lived through. Women and men who are sharing their names, faces, and stories in order to challenge and change the world.
Anne and Patricia's journey resulted in the creation of The Voices and Faces Project (voicesandfaces.org), an award-winning non-profit storytelling initiative and testimonial writing program, and Anne's book Lived Through This: Listening to the Stories of Sexual Violence Survivors (Beacon, 2014). Part personal history of Anne's own experience rebuilding her life after violence, part memoir of a journey spent listening to the moving stories of over 100 survivors, Lived Through This is at once deeply personal and resolutely political.
In "Our Stories Are Our Power," Anne looks closely at how and why story sharing is revolutionizing the movement to end rape and abuse.
Survivors from across the globe are increasingly using their stories to challenge legal and social responses to rape, sexual harassment, and other forms of gender-based violence. #MeToo is but one extraordinary example of this trend. During this interactive presentation and moderated discussion, Anne explores links between the sharing of our stories and healing from trauma, introduces the audience ten extraordinary survivors who are changing minds, hearts, and laws with their testimonies, and considers the "ethics of story sharing" in our digitally connected world. "Our Stories Are Our Power" is part celebration of those changing the world with their stories, part conversation about how audience members can use their own testimonies to create change. Featuring the award-winning survivor photography of Patricia Evans, Ream's creative partner on their book of narrative and photographic survivor profiles, Lived through This.
BIO: Anne K. Ream
Anne K. Ream is a Chicago-based writer and the founder of The Voices and Faces Project, an award-winning storytelling project created to bring the names, faces, and testimonies of gender-based violence survivors to the attention of the public. Her 2014 memoir Lived Through This documents her multi-year, multi-country journey spent listening to the stories of survivors of sexual violence and trafficking. She is the co-creator of "The Stories We Tell," North America's first two-day testimonial writing program for survivors of gender-based violence and other human rights violations, the founding co-chair at World Without Exploitation, and a founding board member at Art Works for Change.
Anne's writing has appeared in the Los Angeles Times, The New Republic, Washington Post, The Cambridge Companion to Bob Dylan, and numerous other publications. Anne has received numerous awards for her work, including the Susan Estrich Courage Award, the End Violence Against Women International Visionary Award, Soroptimist International's "Women Making a Difference" Award, and the National Sexual Violence Resource Council's "Visionary Voice Award," which was presented to Anne at a 2011 Clinton Presidential Center ceremony.
A former Senior Vice President and Group Creative Director at Leo Burnett USA, one of the world's largest communications agencies, Anne was named one of People Magazine's "Heroes Among Us," and recognized by the Chicago Tribune as one of "Chicago's Top 40," in an article highlighting movement makers and opinion shapers who "make the city great" while creating change on a national level.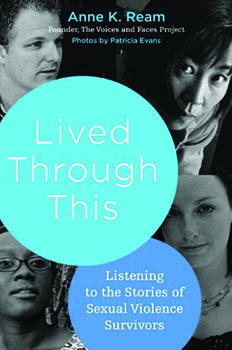 Lived Through This
In 2004, writer Anne K. Ream and photographer Patricia Evans embarked on a unique multicountry, multiyear journey. Their goal was to document the stories of a global community of gender-based violence survivors who have been shaped – but refuse to be defined – by what they have lived through.
See More
Anne K. Ream - Founder of The Voices & Faces Project on Sexual Violence
Lived Through This: Listening to the Stories of Sexual Violence Survivors - A Multi-media Program (not seen in this video)
New Rules for Radicals
How Storytellers, Opinion Shapers and Subversives are changing the movement to end gender-based violence.
Speaking: The Response
"If there is one person who can make audiences accept and understand a public discourse on sexual assault, it is Anne K. Ream. She is an exceptional person who communicates with her audiences on a heart to heart level, and a speaker with the ability to convey what so many of us in the field of ending sexual violence and serving victims are trying to achieve. Articulate and engaging, Anne handles sensitive questions with empathy and diplomacy. We are very grateful that she accepted our invitation to lecture at the Clinton School of Public Policy during Sexual Assault Awareness Month."
Helen Jane Brown, Executive Director, Arkansas Coalition Against Sexual Assault
"Anne Ream's keynote address at the End Violence Against Women International Conference was an important reminder that when it comes to violence against women, the free and paid media shapes public opinion and drives attitudes in the courtroom. By engaging the audience in real-world examples, and focusing on actionable ways that advocates, law enforcement, and policymakers can better leverage the power of the media, she provided tools we can use to change the way we talk about violence against women in the public space. Anne was dynamic and engaging, and her analysis of the current media landscape was spot-on accurate and insightful."
Joanne Archambault, President, End Violence Against Women International
"When I first met Anne Ream, she was part of a panel discussion about female empowerment. I was in the audience, moved to tears. Anne Ream doesn't just give speeches. She bravely dives into the core of the most sensitive issues, peeling back multiple layers of complexity to uncover the essential truth. Her intellect and ability to articulate this truth yields an authority that transcends knowledge, always delivered with compassion and thoughtfulness. I am in awe of her talent for creating deeply personal connections around intensely passionate causes."
Jennifer Severns, Founder, BoomGirl
Response to Anne's Book - Lived Through This:
"Heart-stopping, beautifully rendered stories of survivors powerfully illustrating the notion that when we tell our stories, we change the story."
Eve Ensler, Author of The Vagina Monologues & In the Body of the World
"Anne Ream has turned a deeply personal trauma into a rallying call for survivors of gender-related abuse. The range of individuals profiled in Lived Through This shatter every stereotype imaginable about those who are targets of abuse, and how they came to be so. This is one author who understands that the struggle to end abuse is not about gender, but about common humanity."
Jimmie Briggs, Author of Innocents Lost: When Child Soldiers Go To War and co-founder of Man Up Campaign
"Anne Ream is a warrior. This book is her sword and shield. The battle for sexual-assault survivors' dignity, and the reclamation of their God-given right to live without fear, is won with these brave and bold stories. It's a must read for anyone who has ever known a survivor of sexual assault or is a survivor themselves."
Andrea Buchanan, Editor of Note To Self: 30 Women On Hardship, Heartbreak, Humiliation And Overcoming It All
"Anne K. Ream poignantly shows that sexual violence isn't about statistics, it's about survival. The courage of the survivors in Lived Through This will inspire you and leave you wanting to do more to end the violence that touches nearly every family in America."
Scott Berkowitz, President & founder of RAINN (the Rape, Abuse and Incest National Network)
"In Lived Through This, Anne Ream has created a series of profiles that vividly bring to life the ways that survivors are creating change in their communities. This is a book that requires that we stop, listen and truly bear witness. This is crucial because when we miss the opportunity to listen we unknowingly create the silence that pushes these life stories into the darkness. It is time that the darkness is no longer tolerated. And Lived Through This is an important step toward bringing back the light."
Maile Zambuto, CEO, Joyful Heart Foundation
"Lived Through This should be required reading for all of us who work within the fields of counseling, advocacy, justice and law enforcement. It is one thing to read a book, take a class or in some fashion learn academically about sexual assault. It is another to be profoundly moved and educated about the complex depth of the impact of sexual assault through the courageous life stories of these women. I am in awe and so grateful they have shared of their lives to create this book as a resource."
Sharias Dahlgren, VP of Clinical Programs, Joyful Heart Foundation
Book Reviews: Lived Through This: Listening to Stories of Sexual Violence Survivors
"Ream, founder of the Voices and Faces Project, provides an sympathetic perspective on the personal and political dimensions of rape, compelling the reader to match her unflinching gaze as she tells the stories of individuals who "lived through this." The prose moves from chillingly eloquent to anecdotal as she devotes a chapter each to survivors of rape and childhood sexual abuse. Ream's greatest accomplishment is the book's considerable humanism, giving each survivor a three-dimensional life and personality that transcends the stigma too often attached to rape. Guided by her own experience as a survivor of sexual assault, Ream finds the common threads linking an incredibly diverse group of survivors. The chapters panoramically survey each survivor's life, remaining brutally honest about the terror of this distressingly common crime. Ream's prose is approachable, making the book a useful introductory primer for anyone studying sexual violence. The helpful inclusion of statistics at the end, which puts quantitative weight behind these individual stories, enhances the book's educational value. Each individual story commands attention; assembled as a collection, they positively demand it."
Publishers Weekly
"The atrocity of sexual abuse as told by a captivating, diverse collective of survivors… A sad reality graced with hope, humanity and compassion."
Kirkus Review