The wildlife and literacy activist Boyd Varty, author of the memoir Cathedral of the Wild, had an unconventional upbringing. Born to a family of conservationists, Boyd grew up on Londolozi Game Reserve in the South African wilderness, a place where man and nature strive for balance, where perils exist alongside wonders. Founded more than 90 years ago as a hunting ground, Londolozi was transformed into a nature reserve beginning in 1973 by Varty's father and uncle, visionaries of the restoration movement. But it wasn't just a sanctuary for the animals; it was also a place for ravaged land to flourish again and for the human spirit to be restored. When Nelson Mandela was released after 27 years of imprisonment, he came to the reserve to recover.
Since childhood, Boyd shared his home with lions, leopards, snakes, and elephants and has spent his life in apprenticeship to the wisdom of nature. Boyd survived a harrowing black mamba encounter, a debilitating bout with malaria, even a vicious crocodile attack, but his biggest challenge was a personal crisis of purpose. As a university student, he studied psychology and ecology, supplementing his education by learning martial arts in Thailand, hiking through the jungles of the Amazon, and apprenticing to a renowned tracker from the Shangaan tribe deepening his intimate knowledge of the natural world. Boyd grew up speaking the local language and learning the true meaning of coexistence between people and with nature.
Today, Boyd brings lessons from the wild to the contemporary world and a wide variety of audiences worldwide. In particular, his connection to the ancient art form of tracking has helped many people re-imagine their own purpose and direction.
LECTURE DESCRIPTIONS:
Lessons from the Wild: Ubuntu- Africa's greatest teaching
One of the most ancient lessons from Africa is Ubuntu: I am because of you. It is more relevant today than ever before. Boyd Varty will be using the traditional medium of African storytelling to introduce his audience to a deeper understanding of the philosophy of Ubuntu.
The talk leads you in discovering how people and in fact the whole natural world can help us to deepen our own humanity. Boyd's talk shares stories of his time with Nelson Mandela, his experiences in the African bush with his friend and tracker Solly Mhlongo, as well as other encounters at the world renowned Londolozi Game Reserve.
Boyd Varty expertly delivers a talk that showcases Africa's most ancient lessons from the wild.
Tracker Tools Takeaways
Information on African philosophies
A vision for a more collective society
Modern day village building
How to create belonging in our societies and within our natural environment
A greater relationship with our own humanity
Fun, laughter and heartwarming tales
Track Your Life:
Lessons from the World's Best Animal Trackers
Finding a Life Full of Meaning, Purpose and Passion
Track Your Life is a storytelling presentation that will take you into the African wilderness with the best animal trackers in the world. Learn the process of tracking and then use the lessons of this ancient art form to begin to track the subtle signs that are guiding you to a life full of meaning, purpose and passion.
In this talk tracker, coach and storyteller Boyd Varty, who grew up in the African wilderness, will teach you how to find the "track" of your own vocation. You will journey into a new landscape, have encounters with creatures and discover an ancient process that will give you a new perspectives and tools to begin to track your right life.
Boyd Varty expertly uses tales from his life as a tracker in South Africa working at the world renowned Londolozi Game Reserve. Working alongside the Shangaan trackers, Boyd brings you into a new awareness about how to find what you are looking for in your life right now.
Tracker Tools Takeaways
You will return home after this talk with a reawakened sense of your own wildness, taking with you the tools of a tracker:
Use your body's signals as a compass to navigate the uncertain terrain of your life.
Establish your unique trail and boldly follow it.
Decipher increasingly subtle signals from yourself and from the environment, allowing you to make faster and finer course corrections along the way.
Move fluidly between extreme detail and a broad vision for yourself.
Generate an energy state that is playful, focused, resilient and committed.
The ability to create what you want in the world.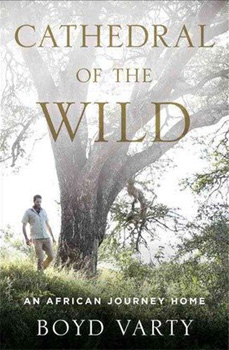 Boyd Varty
Boyd Varty, a wildlife activist, shares stories of animals, humans and their interrelatedness, or "ubuntu" -- defined as, "I am, because of you."
PRAISE FOR CATHEDRAL OF THE WILD
"Extremely touching . . . a book about growth and hope."
The New York Times
"It made me cry with its hard-won truths about human and animal nature. . . . Both funny and deeply moving, this book belongs on the shelf of everyone who seeks healing in wilderness."
BookPage
"This is a gorgeous, lyrical, hilarious, important book. Boyd Varty is as brilliant a storyteller and as kind a companion as you'll ever meet. He describes a life that has been spent forging a new way of thinking and being, in harmony with both Nature writ large and the human nature that is you. Read this and you may find yourself instinctively beginning to heal old wounds: in yourself, in others, and just maybe in the cathedral of the wild that is our true home."
Martha Beck, author of Finding Your Own North Star
"Cathedral of the Wild is the captivating story of the joyful, occasionally terrifying, but always interesting life of Boyd Varty. It is also a tale of healing, and of one family's passion to restore our broken connection to nature. Be prepared to fall in love with Varty, his sister, his parents, his uncle, the ideals they fiercely hold to protect the African bush, and the wild animals and people that surround them. With his campfire wit and poet's ear, Varty is a wonderful new voice in adventure writing."
Susan Casey, author of The Wave: In Pursuit of the Rogues, Freaks, and Giants of the Ocean
"From the first chapter of Cathedral of the Wild, Boyd Varty's South Africa grabs your heart, rather like the giant mamba he encountered as a boy. The deadly snake moved on, but Varty's stories stick. Here is a rare and moving tale of a young man who learns that the greatest dangers, at least to the human soul, are not to be found in the natural world, but in the emptiness beyond it—and that even mambas carry the power to heal."
Richard Louv, author of Last Child in the Woods and The Nature Principle
"[An] intense, insightful memoir that brings together several wise observations about the relationship between nature and humanity . . . Varty faces his own trials . . . leading to a spiritual renewal that elevates this memoir above the usual wilderness narrative."
Publishers Weekly (starred review)
PRESS & MEDIA LINKS
New York Times: A Soulful Safari, Stalking the Spiritual- 'Cathedral of the Wild,' by Boyd Varty Is an African Memoir
NBC: Men We Love: Boyd Varty
NPR: What Wisdom Can We Gain From Nature?
Invest with the best: Patrick O'Shaughnessy & Boyd Varty
Andrew Harper: The Art of Tracking with Boyd Varty
Huffington Post: TEDWomen Update: Boyd Varty On Nelson Mandela And Tracking Your Life's Purpose
The Hindu: 'We' because of 'they': what Ubuntu spells