"Listening to stories widens the imagination; telling them lets us leap over cultural walls, embrace different experiences, feel what others feel." Elif Shafak builds on this simple idea to argue that fiction can overcome identity politics.
Elif Shafak is an award-winning British-Turkish novelist and the most widely read female author in Turkey. She writes in both Turkish and English, and has published seventeen books, eleven of which are novels, including the bestselling The Bastard of Istanbul, The Forty Rules of Love, and Three Daughters of Eve. Her work has been translated into fifty languages. She is published by Penguin/Random House and represented by Curtis Brown globally. She was awarded the title of Chevalier des Arts et des Lettres. In 2017 she was chosen by Politico as one of the twelve people who would make the world better.
Shafak is also a political scientist and an academic. She holds a degree in International Relations, a masters' degree in Gender and Women's Studies and a PhD in Political Science and Political Philosophy. Her thesis on "Islamic Mysticism and the Circular Understanding of Time" was awarded by the Social Scientists Institute. She has taught at various universities in Turkey, the UK and the USA, including St Anne's College, Oxford University, where she is an honorary fellow.
Shafak is a member of Weforum Global Agenda Council on Creative Economy and a founding member of ECFR (European Council on Foreign Relations). An advocate for women's rights, LGBT rights and freedom of speech, Shafak is an inspiring public speaker and twice a TED Global speaker, each time receiving a standing ovation.
Shafak has been featured in and contributes to major newspapers and periodicals around the world, including the Financial Times, the Guardian, the New York Times, the Wall Street Journal, Der Spiegel and La Repubblica. She has been longlisted for the Orange Prize, MAN Asian Prize; the Baileys Prize and the IMPAC Dublin Award, and shortlisted for the Independent Foreign Fiction Prize and RSL Ondaatje Prize
She judged numerous prestigious literary prizes, including Independent Foreign Fiction Prize (2013); Sunday Times Short Story Award (2014, 2015), Women of the Future Awards (2015); FT/Oppenheimer Funds Emerging Voices Awards (twice in 2015, 2016); Baileys Women's Prize for Fiction (2016); Man Booker International Prize (2017) and The Goldsmiths Prize (2018). This year Shafak is judging the Berggruen Culture and Philosophy Prize, and chairs the Wellcome Book Prize.
TOPICS:
— The Politics of Fiction
— Belonging and Identity: What Role Do Art and Literature Play for Redefining Women's Rights?
— Is There Room for Creativity in the Corporate World?
— Innovation/Creativlty in Today's World
— The Art of Storytelling
— Bridging the Gap Between East and West
— Can tailor presentations for sponsor's needs.
Awards and Special Recognitions:
Chair of the Wellcome Book Prize 2019 judging panel.
Honorary Fellow at St. Anne's College, Oxford University.
Patron of National Centre For Writing in Norwich, UNESCO City of Literature
Weidenfeld Visiting Professor in Comparative European Literature at Oxford
Berggruen Prize Juror for Philosophy & Culture
Judge for The Goldsmiths Prize 2018
Future Library Author 2017, Oslo, Norway
Caravan Award for Peacebuilding Through the Arts, 2017
Prize for Tolerance in Thinking and Acting, Prize of Honour of the Austrian Booksellers, 2017
Judge for The Sunday Times/Peters Fraser & Dunlop Young Writer of the Year Award, 2017
Member of Berggruen Prize Award Committee
WOW committee member
Lahore Literary Festival Lifetime Achievement Award, 2016
Granted the Seal of the City and Certificate of Commendation by the City of Milan, 2016
2016 GTF Award for Excellence in Promoting Gender Equality
Judge for 2017 Man Booker International Prize
Judge for FT/Oppenheimer Funds Emerging Voices Awards, 2016
Judge for the 2016 Baileys Women's Prize for Fiction
Cultural Leader; Member of Weforum Global Agenda Council on Creative Economy, Davos 2016
Judge for the 10th Women of the Future Awards, 2015
Judge for FT/Oppenheimer Funds Emerging Voices Awards, 2015
Asian Women of Achievement Awards 2015: Global Empowerment Award
The Architect's Apprentice, shortlisted for RSL Ondaatje Prize, 2015
The Architect's Apprentice, longlisted for Walter Scott Historical Novel Prize, 2015
Judge for Index on Censorship Freedom of Expression Awards, 2015
Board Member of Free Word Centre, which promotes literacy, literature and freedom of expression
Member of English PEN
Cultural ambassador for The Ottoman Orient in Renaissance Art/ BOZAR
Member of the judging panel for the Sunday Times EFG Private Bank Short Story Award two consecutive years (2014, 2015)
Cultural Leader; Member of Weforum Global Agenda Council on Creative Economy, Davos 2014
Member of the Folio Academy
Women To Watch Award, March 2014, Mediacat & Advertising Age
Honour (Crime d'honneur, Phébus), Prix du livre Lorientales 2014
Honour (Crime d'honneur, Phébus) le prix Escapades, 2014
Honour, Nominated (longlisted) for International IMPAC Dublin Literary Award, 2013
Turkish American Society Young Society Leader, 2013
Honour (Crime d'honneur, Phébus), 2013 Prix Relay des voyageurs, France 2013
Honour, Longlisted for Women's Prize for Fiction, 2013
Member of Weforum Global Agenda Council on The Role of Arts in Society
Member of the 2013 judging panel for the Independent Foreign Fiction Prize.
Honour, Longlisted for the Man Asian Literary Prize, 2012
The Forty Rules of Love, Nominated (longlisted) for International IMPAC Dublin Literary Award, 2012
The Forty Rules of Love (Soufi, mon amour, Phébus), Prix ALEF - Mention Spéciale Littérature Etrangère, France 2011
Marka 2010 Award, Turkey
Chevalier dans l'Ordre des Arts et Lettres, France, 2010
TED Global speaker
Ambassador of Culture Action Europe Campaign, 2010
Special Envoy, EU-Turkey Cultural Bridges Programme, 2010
Turkish Journalists and Writers Foundation "The Art of Coexistence Award-2009"
International Rising Talent, Women's Forum - Deauville, France 2009
The Bastard of Istanbul, Longlisted for Orange Prize for Fiction, London 2008
Founding member of ECFR (European Council on Foreign Relations)
The Gaze, Longlisted for Independent Foreign Fiction Prize, United Kingdom 2007
Maria Grazia Cutuli Award - International Journalism Prize, Italy 2006
The Flea Palace, Shortlisted for Independent Foreign Fiction Prize, United Kingdom 2005
The Gaze, Union of Turkish Writers' Best Novel Prize, 2000
Pinhan, The Great Rumi Award, Turkey 1998
THE ARCHIVE
News
Articles
Reviews
Interviews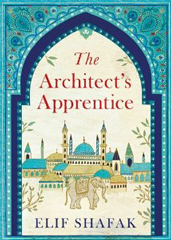 The Architects's Apprentice
Turkey's preeminent female writer spins an epic tale spanning nearly a century in the life of the Ottoman Empire. In 1540, twelve-year-old Jahan arrives in Istanbul. As an animal tamer in the sultan's menagerie, he looks after the exceptionally smart elephant Chota and befriends (and falls for) the sultan's beautiful daughter, Princess Mihrimah. A palace education leads Jahan to Mimar Sinan, the empire's chief architect, who takes Jahan under his wing as they construct some of the most magnificent buildings in history. Yet even as they build Sinan's triumphant masterpieces, dangerous undercurrents begin to emerge, with jealousy erupting among Sinan's four apprentices. A memorable story of artistic freedom, creativity, and the clash between science and fundamentalism, Shafak's intricate novel brims with vibrant characters, intriguing adventure, and the lavish backdrop of the Ottoman court, where love and loyalty are no match for raw power.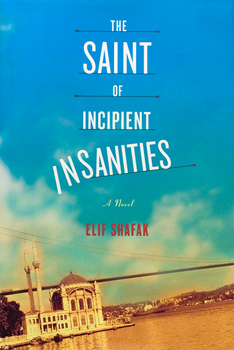 The Saint Of Incipient Insanities
The American debut of prizewinning novelist Elif Shafak. Saint of Incipient Insanities is the comic and heartbreaking story of a group of twenty-something friends, and their never-ending quest for fulfillment. Omer, Abed and Piyu are roommates, foreigners all recently arrived in the United States. Omer, from Istanbul, is a Ph.D. student in political science who adapts quickly to his new home, and falls in love with the bisexual, suicidal, intellectual chocolate maker Gail. Gail is American yet feels utterly displaced in her homeland and moves from one obsession to another in an effort to find solid ground. Abed pursues a degree in biotechnology, worries about Omer's unruly ways, his mother's unexpected visit, and stereotypes of Arabs in America; he struggles to maintain a connection with his girlfriend back home in Morocco. Piyu is a Spaniard, who is studying to be a dentist in spite of his fear of sharp objects, and is baffled by the many relatives of his Mexican-American girlfriend, Algre, and in many ways by Algre herself. Keenly insightful and sharply humorous, The Saint of Incipient Insanities is a vibrant exploration of love, friendship, culture, nationality, exile and belonging that introduces us to a wonderful new voice in international fiction.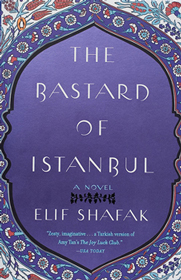 The Bastard Of Istanbul
As an Armenian American living in San Francisco, Armanoush feels like part of her identity is missing and that she must make a journey back to the past, to Turkey, in order to start living her life. Asya is a nineteen-year-old woman living in an extended all-female household in Istanbul who loves Jonny Cash and the French existentialists. The Bastard of Istanbul tells the story of their two families--and a secret connection linking them to a violent event in the history of their homeland. Filed with humor and understanding, this exuberant, dramatic novel is about memory and forgetting, about the need to examine the past and the desire to erase it, and about Turkey itself.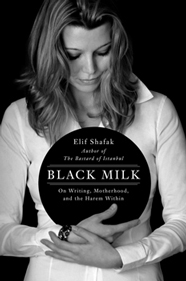 Black Milk
A thoughtful and incisive meditation on literature, motherhood, and spiritual wellbeing from Turkey's leading female author. After the birth of her first child, Elif Shafak experienced a profound personal crisis. Plagued by guilt, anxiety, and bewilderment about her new maternal role, the acclaimed novelist stopped writing for the first time in her life. As she plummeted into post-partum depression, Shafak looked to the experiences of other prominent female writers—including Sylvia Plath, Virginia Woolf, Simone de Beauvoir, and Alice Walker—for help navigating the conflict between motherhood and artistic creation in a male-dominated society. Searingly honest, eloquent, and unexpectedly humorous, Black Milk will be widely embraced by writers, academics, and anyone who has undergone the identity crisis engendered by being a mother.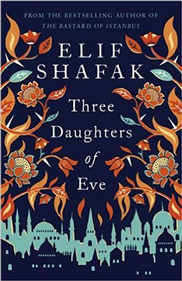 Three Daughters of Eve
In her new novel, one of Turkey's leading literary voices explores some of the most urgent and universal issues in today's world. This is a story about identity, politics, religion, women and God. Peri, a young Turkish woman who grows up observing the clash between her father's lonely secularism and her mother's Islamic religiosity, earns a scholarship from Oxford University and arrives in England. She becomes friends with the charming Shirin, an atheist Iranian girl, and Mona, a headscarved Egyptian-American. It is an unlikely friendship among three very different girls from Muslim backgrounds. Her life changes dramatically when she meets the charismatic but controversial Professor Azur who teaches about God. Peri falls in love but it is a love that will bring an unexpected twist and a dark secret she carry for many years to come. By observing Peri's life in contemporary Istanbul, Shafak takes a close look at Turkey today and reveals the problems that society hides within. This courageous, rich and ambitious novel will resonate with many readers all around the world and raise important discussions.
Elif Shafak: TEDtalk: "The Politics of Fiction"
Elif Shafak explicitly defies definition — her writing blends East and West, feminism and tradition, the local and the global, Sufism and rationalism,
Elif Shafak - 40 Rules of Love - A Storytellers View
Speaking on The Power of Storytelling and the (unifying) impact words can have on people.
Elif Shafak & Viviane Reding: Sense and Sensibility - A Conversation Beyond Borders
Elif Shafak in conversation with Viviane Reding, a member of the European Parliament (DLDwomen 2014).
Elif Shafak - "East, West, and Global Souls"
The keynote speaker at the 2011 Campagna-Kerven Lecture, Boston University.
Blurbs: 10 Minutes 38 Seconds in This Strange World
'One of the best writers in the world today'
Hanif Kureishi
'Haunting, moving, beautifully written - and based by an extraordinary cast of characters who capture the diversity of modern Turkey. A masterpiece
Peter Frankopan
'Simply magnificent, a truly captivating work of immense power and beauty, on the essence of life and its end.'
Philippe Sands
'One of the most important writers at work today'
Independent

'A vivid carnival of life and death, cruelty and kindness, love, politics and deep humanity. This is only possible in the hands of a consummate storyteller. Elif Shafak's lyrical command of language and narrative is breathtaking. Brilliant!'
Helena Kennedy

'Elif Shafak brings into the written realm what so many others want to leave outside. Spend more than ten minutes and 38 seconds in this world of the estranged. Shafak makes a new home for us in words'
Colum McCann

'Elif Shafak's extraordinary 10 Minutes, 38 Seconds in this Strange World is a work of brutal beauty and consummate tenderness'
Simon Schama
'A rich, sensual novel... This is a novel that gives voice to the invisible, the untouchable, the abused and the damaged, weaving their painful songs into a thing of beauty.'
Financial Times
2019 Interviews:
21.07.2019
The Indian Express
"The novel is one of our last democratic spaces"
20.07.2019
The Telegraph
In Elif Shafak's world
06.07.2019
The Hindu
Elif Shafak's '10 Minutes 38 Seconds in This Strange World': The martyr of Istanbul
05.07.2019
OPEN magazine
"I defend a pluralistic, liberal democracy"
30.05.2019
The Worldpost
Polarization Plays Into the Hands of Populist Demagogues
10.05.2019
Spiegel Online
Interview on Istanbul
10.05.2019
Toast Magazine
A Life Less Ordinary
01.05.2019
BBC Radio 4 Extra
Telling Tales
01.05.2019
Thought Economics
A Conversation with Elif Shafak
23.04.2019
Toast Podcast
Style & Stories
26.03.2019
Ceftus
Who is 'we the people'? Elif Shafak - Questions and Answers Session
19.03.2019
The Guardian
Wellcome Book Prize Shortlist
13.03.2019
The Jakarta Post
Extremists polarize humanity, storytellers do exact opposite
12.03.2019
National Centre for Writing
Elif Shafak and Bidisha talk #MeToo
06.03.2019
New Statesman
Diary
02.02.2019
Vanity Fair London
Ten Questions with Elif Shafak
30.01.2019
Exponential View
Overcoming the Epistemic Crisis: Elif Shafak in Conversation with Azeem Azhar
2019 Articles:
15.07.2019: The Guardian
"Police officers demanded to see my books": Elif Shafak on Turkey's war on free-speech
16.06.2019: Tortoise Media
We Go Again
12.06.2019: Newstatesman
Elif Shafak's Diary
25.05.2019: The Guardian
The book that changed my mind
17.05.2019: New York Vulture
Elif Shafak's 10 Favorite Books
06.05.2019: The Guardian
From Spain to Turkey, the rise of the far right is a clash of cultures not civilisations
30.04.2019: Women in Leadership
Time For Global Sisterhood
01.04.2019
The Guardian
To understand the far right, look to their bookshelves
20.03.2019: Brexit
New Statesman special issue
12.03.2019: Young Writer Award
What I wish I had known
01.02.2019: National Centre for Writing
Elif Shafak introduces her selection of 10 exciting women writers in the UK
2018
14.12.2018: The Vanity Fair
Elif Shafak: Travels of a Linguistic Nomad
10.12.2018: The Guardian
It's not just Europe – toxic imperial nostalgia has infected the world
05.10.2018: New Statesman
Why the novel matters in the age of anger
01.10.2018: Literary Hub
Elif Shafak on Ways of Knowing and the Women in Her Life – A Granddaughter Remembers
01.10.2018: Vogue India
11th Anniversary Special / Geography
03.09.2018: The Guardian
Even as Turkey pulls away, the west must hold Turkish people close
27.01.2018: The Guardian
Further reading: Elif Shafak on books to change your mind
12.01.2018: The Guardian
Nations don't always learn from history
2017
The Guardian on Three Daughters of Eve:
05.02.2017 The Times:
04.02.2017 The Book Eaters:
03.02.2017 Financial Times:
30.01.2017 Lonesomereader:
2016
01.11.2016: Neue Zürcher Zeitung (NZZ):
23.10.2016: Frankfurter Allgemeine Sonntagszeitung
19.02.2016: Libros y literature
26.01.2016: The Oxford Culture Review
2015
31.07.2015: The Architect's Apprentice
23.06.2015 The Washington Post
08.06.2015 The New York Times
12.05.2015 Seattle Times
04.04.2015 Winnipeg Free Press
31.03.2015 Book Page
31.03.2015 Bookriot
02.03.2015 Publishers Weekly
01.03.2015 House of SpeakEasy
10.01.2015 The Spectator
03.01.2015 Thee Press and Journal
01.01.2015 World Literature Today
2014
27.12.2014 The Telegraph
20.12.2014 The Independent on Sunday
06.12.2014 Asian Review of books
05.12.2014 World Literature Today
22.11.2014 The Guardian
13.11.2014 The National
09.11.2014 The Guardian
07.11.2014 Financial Times
30.10.2014 The Independent
07.04.2014 Tages-Anzeiger
18.01.2014 The Age Entertainment
07.01.2014 Sunday's Zaman