In the American Southwest and its borderlands, no other social justice advocate has made a greater impact on the lives of undocumented workers and immigrants along the US/Mexican border than activist Enrique Morones. Founder and Executive Director of GENTE UNIDA, a human rights border coalition, Morones's organization has been addressing the challenges faced by immigrants along the US and Mexican border and saving lives. Morenes is also the founder of Border Angels and The House of Mexico.
Morones was born in San Diego to Mexican parents who instilled in him a deep love for Mexico, spiritual faith and social justice. His Catholic school education played a key role in his work as founder of Border Angels, a nonprofit organization established in 1986 that has been internationally recognized for "saving migrant lives." Its mission statement is driven by the passage "for I was hungry and you gave Me food; I was thirsty and you gave Me drink." Matthew 25:35, which exemplifies what Border Angels is all about — loving our fellow man.
In Morones's best-selling memoir, The Power of One: the Border Angels Story, he tells his own story (with noted Chicano historian Richard Griswold del Castillo) of someone who took the chance to make a difference in the lives of people in Mexico, in the United States, and most importantly, along the U.S./Mexico border, la frontera.
Morones is also the founder of Mexico's Border Commission, established in 2003 under Mexico's president, Vicente Fox. He founded the House of Mexico in Balboa Park in 2002, and in 2008, co-founded the Friends of Friendship Park. In 2006, he founded the historic Marcha Migrante, an annual march to support immigration reform and to remember those who died trying to cross the border.
Morones has a long history of firsts. He was the first U.S.-born citizen to receive dual nationality with Mexico in 1998, directly from president of Mexico, Ernesto Zedillo. He was the first person to create and direct a Latino marketing department in major league sports, as the vice president of Latino marketing for the San Diego Padres from 1995 to 2001. He was the first person to be re-elected as president of the San Diego County Hispanic Chamber of Commerce, a position he served in from 1996 to 1998. He was the first U.S.-born man to receive Mexico's National Human Rights Award, presented to him in 2009 by Mexico's president, Felipe Calderon.
Morones has been featured on NBC, CNN, CBS, BBC, NPR, Univision's Don Francisco Presenta, Televisa Nacional, Rocio en Telemundo and in countless other international media around the world. He frequently lectures and has more than held his own on shows with Bill O'Reilly and Lou Dobbs. Morones promotes the TRUTH about the migrant community. He has debated immigration issues in national and international media — including, the "Today" show, "Sabado Gigante," NPR, "Larry King," "Lou Dobbs," "The O'Reilly Factor and HBO. He has spoken at universities across the country, hosted students from around the world and was featured in four films and the best-selling book,
He is recognized as one of the 100 most influential Latinos in the USA by HISPANIC BUSINESS MAGAZINE and his recognitions include being FRONTLINE HUMAN RIGHTS international awardee for his lifelong dedication to Human Rights, 2009 National Human Rights Award, presented by Mexican President Felipe Caldron, 2010 California Spirit Award, presented by Gil Cedillo, and the Bishop Buddy Alumni award presented by "USD" University San Diego.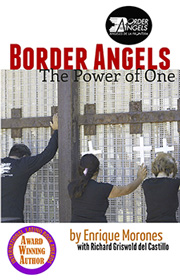 Border Angels: The Power of One
Looking for a work at the crossroads of border studies, history, memoir, political science, social justice, activism, chicana/o studies, and immigrant rights, then Enrique Morones BORDER ANGELS: THE POWER OF ONE is the book for you. In the American Southwest, no other social justice advocate has made a greater impact on the lives of undocumented workers than Enrique Morones. In BORDER ANGELS: THE POWER OF ONE, Morones tells his own story (with noted Chicano historian Richard Griswold del Castillo), and the result is a singular memoir of someone who takes the chance to make a difference-a brave activist who, with his organization, the Border Angels, saves the lives of legions who attempt to cross the hot, beautiful, and dangerous deserts that fuse the United States and Mexico.
Enrique Morones - TEDxUCSD (May 2019): The Power of One
We all have the power, the power of one. Whether the best of times or the worst of times, how will you use the power?
Enrique Morones: Humanitarian Award at the University of San Diego
Bishop Charles Francis Buddy Award for contributions to humanitarian causes
Enrique Morones: Undocumented Immigrant Debate - Intelligence Squared U.S. (Oct 15, 2017)
"Let's stop welcoming undocumented immigrants" - Speaking against the motion
My father, Cesar Chavez, led heroic grape workers around Delano, California in the longest continuing farmworker strike in U.S. history in a profound statement of non-cooperation with a farm labor system that exploits and impoverishes mostly immigrant farm workers. Today, courageous members of the Border Angels are honoring the legacy of my father by making a powerful statement against inhumanity and oppression endured on our border by innocent immigrants.
Paul F. Chavez, President, Cesar Chavez Foundation
It all went very well. Our new president was very impressed by Enrique.
- New Jersey City University
We were extremely pleased with Enrique Morones' outstanding presentation during Hispanic Heritage Month.
- Tidewater Community College
His talk was very well-received--prompting the dean to approach him about in-service possibilities with our students and his group. --
- Cuyahoga Community College
Enrique Morones' story is remarkable and needs to be told. He is a man of conscience who stands up to the injustice by simply being on the side of love and human dignity. Let us rejoice that an angel walks among us in this fight for truth, immigration reform and justice for all.
- Josefina Lopez
Enrique Morones is the finest example of the Si Se Puede attitude in service to those who risk their lives in search of a better life.
- Arturo Rodriguez, President, United Farm Workers of America