"The depth of Reema's gift can be felt in her teachings as well as her music. It is no wonder she carries a tradition that goes back generations in her family. I am sure those who experience yoga with Reema will be touched by her presence and offerings, as have I."
- Sting
OUR WELLNESS JOURNEY
Movement, Mindfulness & Minimizing Stress
An Experiential Event
The mind can heal us or hurt us. Move your body while replacing harmful thoughts and emotions with ones that are empowering and liberating. Loosen the blocks in body and mind. Cultivate the clarity and vitality to contribute your unique gifts to the world. After all, it is in the giving that magic happens, and life becomes meaningful, easeful, and joyful.
Deeply rooted in the heritage of India while raised in the United States, Reema describes her journey to find her own authentic voice and life's purpose. Reema incorporates storytelling to get the audience engaged in practices that include breathing, movement, song, visualization, and self-discovery.

Reema Datta is an Indian-American teacher, humanitarian, mother, author and musician who has dedicated her life to offering yoga as a holistic practice leading to healing and lasting peace. Reema has developed a program which she is teaching internationally: Yatri - Yoga for Emotional Healing™. It begins with understanding how our thought patterns and emotions affect our mental and physical well being. Antidotes for destructive emotions such as anger, anxiety, attachment, loneliness and fear are taught through practices based in movement, meditation and psychotherapies.

Born into a family of yogis, Reema first learned yoga philosophy from her grandfather, ayurvedic cooking from her grandmother, and sacred song and mantra from her mother. Her teachers include the Dalai Lama, Sri Pattabhi Jois, Ma Daya Vyas, Sri Dharma Mittra, and direct disciples of Mahatma Gandhi. Reema has taught alongside Danny Paradise, Ana Forrest, David Swenson, David Williams and Larry Schultz.
At the age of 24, Reema had finished her undergraduate degree at Vassar College and completed her Masters degree at the London School of Economics. Immediately following, 9/11 occurred in NYC. Overnight, the trajectory of her path shifted towards what she had been taught her entire life: YOGA and its deep capacity to heal. After leaving her work with the United Nations in 2001, Reema pursued studies and practiced with numerous spiritual masters in India and South America. She has been teaching Yoga and Ayurveda internationally since 2002. Her students range from singer-songwriter Sting, Paul Simon and Edie Brickell to humanitarian, Zainab Salbi, the Princess of Rajasthan and students across the globe. She has collaborated with musicians such as Manose Singh, Ronu Majumdar and Krishna Das.
Reema is the author of the companion manual for YATRI: Check Your Heart Awareness Practice and co-author of Sacred Sanskrit Words For Yoga Chant And Meditation. Her albums Truth Love Creation and Here's My Heart are available on iTunes and Amazon.com.
Also Available: The Art of Consciousness: Yoga, Meditation & Movement
WORKSHOPS

What can you do when the mind is clouded and you are overcome with anxiety, sadness, anger, jealousy and attachments? In addition to the above event, you can add one or more workshops to the schedule. Consider:
YATRI: Transform Destructive Emotions and Thought-Patterns through Movement, Meditation and Yogic Wisdom
Yatri begins with understanding how our thought patterns and emotions affect our mental and physical health. Antidotes for anger, anxiety, attachments, depression, jealousy, loneliness and fear are taught through practices based in classical Indian and Tibetan Yoga as well as contemporary Psychotherapies and Neuroscience. As we transform destructive patterns, not only do we heal ourselves, we also have more energy to give.
Yoga to Transform Anxiety
"The only control over the future I have is the quality of mind right now." - Bonnie Duran
While moving through a sequence of poses, experience an ancient, powerful meditation to alleviate anxiety. This detailed meditation was brought from India to Tibet in 1000AD by a yogi named Atisha. The session will include a full body movement practice, breath work, meditation and journaling.
Yoga to Transform Anger
"The wound is the place where the light enters you." Rumi
Through movement and meditation, identify and overcome anger. Learn techniques to get to the roots of your anger and to experience anger in constructive rather than destructive ways. The class draws upon ancient teachings as well as recent collaborations between the Dalai Lama and leading psychotherapists. The session will include movement, breath work, meditation and journaling.
Yoga to Transform Attachments

"Most of our troubles come from attachments to things that we mistakenly see as permanent." - The Dalai Lama
Attachments take many forms. Attachment to people and objects can drain us of our power. Attachment to results of our actions can inhibit how much we give. Attachment to the ways we identify ourselves can limit how fully we live. In today's workshop, identify your main attachments and experience what it is like to loosen the grip. What possibilities does releasing attachments open up for you? How can we love and live fully without attachments? The session will include gentle movement, meditation, breath work and journaling.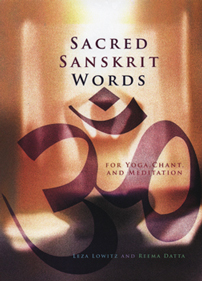 Sacred Sanskrit Words
Joseph Campbell called Sanskrit "the great spiritual language of the world." Designed by ancient Indian holy men to express the states of enlightened consciousness through syllabic sounds, Sanskrit is widely used in the West during yoga practice to channel spiritual pathways and to discuss important meditative and philosophical concepts. This book introduces 180 Sanskrit words including chakra, karma, om, namaste, veda, nirvana) with Devanagari scripts, pronunciations, chants and brief cultural/historic explanations. A practical reference that makes an excellent gift book for any student of yoga, meditation or Eastern religion. Leza Lowitz is a much-published writer and director of Sun and Moon Yoga Studio in Tokyo, and Reema Datta grew up in India and teaches Ashtanga yoga and Ayurvedic cooking in San Francisco.

See More
Speaking
"We are living in a time where there is a need for more reflection and grounding in our bodies, minds, emotions, and spirits. Reema's recent visit to our school offered a rare chance for our faculty and students to learn from her inspiring story and very evident mastery of her craft. Of particular interest to me was her understanding of how our thoughts and feelings impact our mental and physical health and how movement and song can assist our well-being. I felt as if I was reawakened not only to my humanity, but also to an inner wisdom we all have. Her gentle, warm, intelligent, and unpretentious style is a gift to all who are in her presence. Above all, Reema encourages us to be better human beings, bringing peace to ourselves and the world."
Susan Rahauser, MS, LPC, NCC,
Director of Student Counseling Services, Mercersburg Academy, PA
Sacred Sanskrit Words: For Yoga, Chant, and Meditation
"A must-have for anyone who is new and serious about exporing the subject further. Also recommended for advanced practitioners who may want to 'brush-up' on their Sanskrit."
Yoga Magazine UK
"This slim volume is a lot more than its title lets on."
The Asian Reporter
"...A joy to read: it has accuracy in its translations, beauty in its presentation, and conveys the spiritual richness of the yogic tradition. It will definitely enrich the life of many yoga teachers and students."
Ascent Magazine