Nicholas Kristof of The New York Times called him "one of the unsung heroes of modern times," and he is arguably the most influential man that most people have never heard of. His name was Fazle Hasan Abed, and his work changed the lives of millions. But his story has never been told—until now.
As the founder of BRAC in Bangladesh, Abed found a way to fight poverty that was based on evidence and results, not rigid dogmas. "You've revolutionized the way we all think about development," Bill Clinton told him once. By the time he died at eight-three in December 2019, he was revered in international development circles, even while remaining largely unknown to the general public.
Previously a journalist, Scott MacMillan worked closely with Abed for seven years as his speechwriter and now serves as BRAC USA's director of learning and innovation. In his new book, HOPE OVER FATE: Fazle Hasan Abed and the Science of Ending Global Poverty (Rowman & Littlefield), the author shares the story of a complicated man and why his transformative approach to poverty and development is more relevant than ever. This is a story with much needed lessons for positive social change that can be applied widely. Even amidst today's challenges, poverty remains one of the most pressing concerns facing our global community. At the turn of this century, the UN adopted the Millennium Development Goals, which targeted a halving of the global poverty rate by 2015. Incredibly, the world would hit that mark five years early, causing optimistic global policymakers to believe the most extreme forms of poverty could be removed from the face of the earth by 2030. Unfortunately, due to the lingering effects of the pandemic, the war in Ukraine, and rising inflation, the number of people living in extreme poverty – living on less than $1.90/day – has ticked up, and most experts no longer believe we will hit that goal.
In HOPE OVER FATE, Scott MacMillan shares Fazle Hasan Abed's story that was personally told to him by Abed, and takes readers inside BRAC, which celebrates its 50th anniversary in 2022. It is, by many measures, the world's largest nongovernmental organization. MacMillan recounts the life of its enigmatic founder, a mild-mannered accountant who put into practice a groundbreaking idea: that teaching people the skills to improve their own lives would give them the hope necessary to lift themselves out of poverty. This insight, which is now supported by hard data and economic research, led Abed to create one of the most effective anti-poverty programs in history.
Fazle Hasan Abed was an unlikely revolutionary. Born in 1935 to a wealthy and influential family in what is now Bangladesh, he left home at eighteen and spent over a decade studying and working in Britain before taking a job at Shell, the oil company, where he was quickly promoted to finance director of Shell Pakistan. Following the Bangladesh Liberation War in 1971, Abed's homeland was the world's second-poorest country, with a per capita GDP of less than $100. One in four children died before the age of five, and much of the world had written off Bangladesh and its seventy million people. Using the skills he honed as an international businessman, Abed founded BRAC in 1972 as a temporary effort to help rebuild the country. It would quickly pivot to long-term development and become his life's work.
By the time of his death in December of 2019, Fazle Hasan Abed had grown BRAC into a massive institution active in a dozen countries with 100,000 employees, mostly self-financed, with a university, a bank, commercial enterprises, and large standalone anti-poverty programs in nearly every sector of development. His many innovative ideas and programs have transformed the way world leaders understand global poverty and how to combat it.
Abed's story includes the following lessons:
• Women need to lead development efforts: Abed realized women were the unwitting managers of poverty, often bearing the responsibility for allocating a household's limited resources. He came to recognize this could make women the managers of development as well, and, though BRAC was not founded explicitly as a women's empowerment organization, it did in effect became one. Abed believed in women's empowerment from both a practical and moral standpoint, considering "the subjugation of half the world's population to be the greatest injustice in the history of humankind."
• People must learn to think critically about their own situations: Poverty cannot be beaten without education, but it is not enough for people to just learn basic reading and math. Instead, they must come together to discuss and work through the problems they face in common to confront the injustices that hold them back.
• Develop alternative schooling for children born into poverty: Launched in 1985, BRAC's one-room schoolhouses, geared exclusively toward children from extremely poor households, were the organization's equivalent of the Model T Ford: while they didn't invent it, they designed a system of mass replication that created what was almost certainly the world's largest nongovernmental, nonreligious school system.
• Going to scale is necessary: Abed went against traditional orthodoxy that NGOs should remain small and lean, instead believing the massive scale of a problem like human poverty needed an organization that functioned with the efficiency of the private sector. He also sought to reduce the organization's dependence on donors, instead finding innovative ways to generate revenue by building up industries to buy the products BRAC graduates were producing and using the profits to fund more poverty programs. As a result, no other non-profit or social enterprise even approaches the scale of BRAC.
• Think like a social entrepreneur: By thinking creatively to tackle issues that had been the exclusive domain of governments and, by combining commercial interests with social good, Abed was at the vanguard of a global shift in how social problems are solved.
• Invest in the science of hope: A well-placed injection of hope and self-esteem, provided it is combined with an adequate boost of material support, can make all the difference.
With the unprecedented access gained through years of working closely with Abed, MacMillan uses HOPE OVER FATE to chart not only his fascinating life, touched by many of the same problems he spent his life fighting against, but also his formation and expansion of BRAC. Through the course of almost fifty years of leadership, the organization he founded, meant to be a temporary effort, instead evolved to change countless lives in his home country and around the world. Today, BRAC's programs in education, health care, youth empowerment, financial inclusion, agriculture, and many other areas reach more than 100 million people.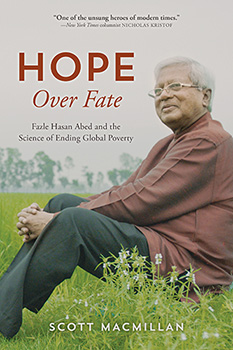 HOPE Over Fate: Fazle Hasan Abed and the Science of Ending Global Poverty
Nicholas Kristof of The New York Times called him "one of the unsung heroes of modern times," and he is arguably the most influential man that most people have never heard of. His name was Fazle Hasan Abed, and his work changed the lives of millions. But his story has never been told—until now. Previously a journalist, Scott MacMillan worked closely with Abed for seven years as his speechwriter and now serves as BRAC USA's Director of Learning and Innovation. In his new book, HOPE OVER FATE: Fazle Hasan Abed and the Science of Ending Global Poverty (Rowman & Littlefield), the author shares the story of a complicated man and why his transformative approach to poverty and development is more relevant than ever. This is a story with much-needed lessons for positive social change that can be applied widely. Even amidst today's challenges, poverty remains one of the most pressing concerns facing our global community. Abed started a temporary relief effort for refugees in Bangladesh in 1972 that became BRAC, one of the largest non-governmental organizations in the world that now has over 100,000 employees. He created one of the most effective anti-poverty programs in history. While the book is a biography of Abed, it's also the biography of an idea: the idea that hope itself, or people's understanding that they can change the world around them rather than resigning themselves to fate, can itself help break the poverty trap. This insight is backed up by hard economic science. Scott is an engaging speaker and "hope" is a concept we need to have much more for us all to create a better world. Hope Over Fate and Scott's speaking engagements and conversations will hopefully help fuel that outcome.
Hope Over Fate: Fazle Hasan Abed and the Science of Ending Global Poverty
Hope Over Fate by Scott MacMillan: Background Video
Hope Over Fate Reading by Scott MacMillan at 2022 Conrad N Hilton Foundation Hilton Prize Symposium
Scott MacMIllan Reading & Interview with Shameran Abed, Executive Director, BRAC International (2008 Prize Laureate) at the 2022 Hilton Humanitarian S
Praise for HOPE OVER FATE Fazle Hasan and the Science of Ending Global Poverty
"inspirational account . . . [and] a detailed study of how change happens," while Booklist says, "Abed's story is undoubtedly an uplifting one, and the author clearly idolizes his subject, which, combined with his talent for writing, offers much hope to be found here."
— Publishers Weekly
"MacMillan will move readers with this biography of Fazle Hasan Abed and BRAC, the charitable action organization originally known as the Bangladesh Rehabilitation Assistance Committee, which Abed founded. As an accountant with a love of language and the arts, Abed became a revolutionary philanthropist after seeing the devastation in the newly formed Bangladesh. Abed, who died in 2019, assisted hundreds of thousands of people through BRAC, eventually expanding the charity to provide aid to a dozen countries in Africa and Asia. MacMillan, an executive with BRAC USA and former speechwriter for Abed, elegantly weaves the inspiring story of BRAC with the tragedy of Abed's personal struggles, creating a compelling picture of a complicated man. Abed's story is undoubtedly an uplifting one, and the author clearly idolizes his subject, which, combined with his talented writing, offers much hope to be found here."
— Booklist
"This inspirational account credits Fazle Hasan Abed (1936–2019) and his Bangladesh Rehabilitation Assistance Committee, now called BRAC, with helping to "upend the traditions of misery and poverty in Bangladesh." MacMillan, a director at BRAC USA, traces the organization's roots to 1970, when Abed, then working as the finance executive at Shell Pakistan, witnessed the devastation a cyclone brought to his native Bangladesh (then known as East Pakistan). At the time of its independence in 1971, Bangladesh was the second poorest nation in the world. "One in four children died before their fifth birthday," MacMillan notes, but by 2013, the under-five mortality had fallen to 4%. The turnaround came in large part thanks to BRAC's incentive-based training program, which taught mothers how to mix a home remedy of water, sugar, and salt to treat life-threatening diarrhea. Other BRAC initiatives, based on Abed's business background and conviction that people need to feel "a sense of self-worth," included microloans and the creation of small schools where children and adults were taught by someone from their own village.... This is a detailed study of how change happens."
— Publishers Weekly
"Abed was an extraordinary man who built one of the largest and most effective anti-poverty organizations in the world. He did this with humility, attention to rigour and evidence, and a relentless pursuit of the innovation and scale needed to be truly transformative. This book tells his remarkable story and provides important lessons to all those who care about development."
— Minouche Shafik, Director of London School of Economics and author of What We Owe Each Other: A New Social Contract
"With all his humility and kindness and belief in the potential of others, Fazle Abed was also the most visionary, the most entrepreneurial, and the most transformational leader I have met. This beautiful book tells his story—and shows how he changed the world and what we can learn from him."
— Wendy Kopp, CEO and co-founder, Teach for America
"Hope Over Fate is a beautiful tribute to a man who inspired awe but was profoundly relatable—always reminding us that we too could choose to live consequentially. A giant of history, Fazle Abed believed deeply in the power of hope and personal agency, and in the fundamental dignity of all people. He proved that given a dose of inspiration, a door to opportunity, and a community of support, individuals and communities facing poverty could and would change their own lives. Like his life, his story is a treasure trove; a gift to the world!"
— Reeta Roy, president and CEO of the Mastercard Foundation
"If you aspire to be a great changemaker or even social entrepreneur, this book is for you. Scott MacMillan brings us a living Fazle Abed, one of the first and absolutely most creative, pattern-changing entrepreneurs for the good of the last hundred years."
— Bill Drayton, founder and CEO, Ashoka
"Hope Over Fate fluidly traces the formative influences in the incredibly inspiring story of Abed bhai, as he eschewed paternalism towards the poor in favor of learned self-sufficiency. The book evocatively describes his simple demeanor, one that belied his enormous impact on the reduction of poverty. It rings true to the role model I had the privilege of knowing in the last two decades of his eventful and fully-lived life."
— Tarun Khanna, Jorge Paulo Lemann professor, Harvard Business School
"Are you a wonk, keen to know how the world's largest nonprofit came to be (while maintaining a fairly low profile) and how they use evidence and business savvy to deliver effective, scaled programs around the world? Or are you keen to understand the human stories behind the scenes of one of the best but untold stories of fighting poverty one household at a time? Either way, this book will grab you, as it follows the story of the unsung hero Fazle Hasan Abed and the path to scale for fighting poverty."
— Dean Karlan, professor of economics and finance at Northwestern University and founder of Innovations for Poverty Action
"Hope Over Fate tells the story of a true genius, Fazle Hasan Abed, who above all was a teacher: He made BRAC into an organization where programs were built on a constant updating of knowledge and experience, creating an institution that was never afraid to change course when necessary. Despite all the awards and praise that Abed received, it was always about BRAC, never himself – so much so that he was even uncomfortable sharing his remarkable story with the world. — Richard Cash, senior lecturer on global health, Harvard T.H. Chan School of Public Health Sir Fazle Abed was a true hero of modern humanity. He proved that even the most complicated and complex of environments can be systemically changed through effective leadership, innovation, perseverance, and courage. He showed the power of belief in children to change their life trajectory when given the right education, tools, and support. Through this book we can hope that many others will be inspired to walk in his footsteps of a lifelong commitment to helping others reach their full potential. — John Goodwin, former CEO, Lego Foundation It is no exaggeration to say that BRAC's work was hugely influential in my own career and thinking. Reading Hope Over Fate was an extraordinary opportunity for me to learn more about Hilton Humanitarian Prize laureate BRAC and its founder, the late Sir Fazle Hasan Abed. I am certain we can all be inspired by his passion, humility and humbling story of courage and hope."
— Peter Laugharn, president and CEO, Conrad N. Hilton Foundation
"Read this book if you have thought about giving up on accomplishing something meaningful in life in the face of setbacks and cynicism. It is the story of perhaps one of the most meaningful projects for improving human wellbeing in history, told through the biography of its founder, Fazle Abed. The book shows how Abed and his organization got there through perseverance over great skepticism, in an environment of violence and corruption, and despite multiple initial failures and discouraging setbacks. MacMillan's book is thorough and full of fascinating details. The book is also beautifully written, even as the author lets the people of BRAC tell their own stories, including not only founder Abed, but also partners over the years, staff from the top all the way out to the frontline, and from poor (and formerly poor) participants."
— Stephen Smith, Chair of the Department of Economics and Professor of Economics and International Affairs, George Washington University
"In the soul of every Bengali is a poet and an entrepreneur, yearning for a voice and an opportunity. Hope Over Fate is a lyrical biography chronicling the origin story of Sir Fazle Hasan Abed and the noble enterprise that was both his life's work and greatest poem. Sir Fazle found his opportunity in the aftermath of the Bangladesh Liberation War. He gave up life as a rising corporate executive and committed himself to a life of service in liberating the voices and entrepreneurial potential of his fellow Bengalis. Speaking softly and ever in search of new ideas, he combined entrepreneurial genius with servant leadership to build BRAC, the most elaborate, sustainable and successful non-profit network of poverty alleviation programs in the world. He achieved at scale what governments and other global non-profits only dream of.
— Raymond Offenheiser, Director, Pulte Institute for Global Development, Keough School of Global Affairs, University of Notre Dame
"Hope Over Fate is the inspiring story of a brilliant, self-effacing man, the incredible organization he created, and the largest, most successful poverty eradication effort in history. Scott MacMillan unpacks the building blocks in the life and work of Fazle Hasan Abed, a remarkable man whose name and incredible achievements are worthy not just of the honours he received, but of careful study by anyone involved in the work of ending poverty."
— Ian Smillie, author of Freedom from Want
Praise for Sir Fazle Hasan Abed
"In 1972, after Bangladesh's war of liberation had left many homeless, Fazle Abed left his job as a London oil executive and returned to his home country with £16,000 in his pocket — and the ambitious goal of building 10,400 houses. He ended up raising enough money to build 16,000 houses for some of the poorest people in Bangladesh and still had enough left over to start his next project. That's who Sir Fazle was as a humanitarian, and that's what he helped us learn about development work: How to build a big, efficient organization, while never forgetting who you were doing it for."
— Bill and Melinda French Gates
Sir Fazle Abed's life was a great gift to humanity. His nearly 50 years of visionary leadership at BRAC transformed millions of lives in Bangladesh and beyond and changed the way the world thinks about development. Driven by an unwavering belief in the inherent dignity of all people, he empowered those in extreme poverty to build better futures for themselves and their families."
— President Bill Clinton
I can think of few people who have done so much for humanity as Abed. He was a friend and someone I deeply admired and learned from: While US aid efforts in Afghanistan often flopped, his succeeded. — Nicholas Kristof, New York Times Abed was one of the foremost leaders of thought as well as action of our time. Not only did he transform Bangladesh, and indeed a lot of the world, by his radical initiatives, he proceeded to his actions through identifying what our deprived world needed, using remarkably penetrating analysis and social scrutiny. An astonishing combination of clear-headed thinking and sure-footed execution made Abed the great leader that he was. We have had very few like him in the history of the world.
— Amartya Sen, Nobel Prize Laureate in Economics
It is certainly not an exaggeration to say that there is hardly anyone among the 170 million people of Bangladesh who do not benefit in some way from Abed's programs or enjoy products and services provided by his organizations. … Abed has changed the concept of NGOs all over the world. The idea that an NGO could come forward to provide a comprehensive solution to almost all the problems in a country was absolutely unthinkable.
— Muhammad Yunus, Nobel Peace Prize winner
How often do we see people like Sir Fazle Hasan Abed? His absence has left a great sense of loss in all of us.
— Abhijit Banerjee and Esther Duflo Yunus, Nobel Prize Laureates in Economics and authors of Poor Economics
The scale and impact of what [Abed] has done, and yet the utter humility with which he has done everything, is a lesson for every single one of us.
— Jim Yong Kim, former World Bank president
Sir Fazle's contributions to poverty alleviation and sustainable development in Bangladesh and around the world are sources of great inspiration for the United Nations. Sir Fazle's vision became BRAC's vision: A world free from all forms of exploitation and discrimination. He was a strong advocate for women, and through BRAC, he designed development models that placed women at the centre. Sir Fazle also understood that opportunity starts through education and developed an education model that has been replicated around the globe. — António Guterres, Secretary-General of the United Nations Through a lifetime of quiet persistence, Sir Fazle has changed the way the world thinks about poverty and development. The foundations of lasting peace include education, health, prosperity and justice; without these, the prospects for peace in this world remain distant. Sir Fazle has shown us a way forward. With anti-poverty innovations operated on a massive scale, BRAC has made immeasurable contributions to the on-going effort to eradicate extreme poverty from the face of the earth, while inspiring others to make a similar impact. Today, thanks in large part to Sir Fazle's work in his native Bangladesh and elsewhere, the poor are no longer seen as passive victims of a poverty that is enduring and unchanging. Instead, they have become agents of change in their own lives, empowered to seize control of their destinies using an array of innovative tools.
— Ellen Johnson Sirleaf, former president of Liberia and winner of the Nobel Peace Prize
BRAC tackles the causes of poverty, hunger and hopelessness at the root and plants trees of hope.
— Wangari Maathai, Nobel Peace Prize winner
Over the course of three decades, under Sir Fazle's inspiring leadership, the humanitarian organization he founded, BRAC, has become one of the world's leading development organizations. From its humble beginnings in Bangladesh – the country he loved so well – to its expansion to 10 countries across Asia and Africa, BRAC has stood as an inspiring example of how we can gather people together in common cause to improve the lives of the most vulnerable.
— Henrietta Fore, executive director, UNICEF
The hundreds of millions of lives [Abed] transformed will remember him as the spark of hope, especially by those from the most vulnerable and poorest communities now enriched by new possibilities.
— Charles Chen Yidan, founder, Yidan Prize Foundation
Sir Fazle was an extraordinary person, and he created an institution which mirrors his vision, commitment, and values.
— Kevin Watkins, former chief executive of Save the Children UK
Sir Fazle made an essential contribution to the single greatest period of poverty reduction in human history. He was an inspiration to so many, especially the millions of women and girls who have been empowered through BRAC.
— Ambassador Kenneth M. Quinn, former president of the World Food Prize Foundation
It is impossible to overstate the contributions of Sir Fazle to the work of poverty alleviation and development both in his native Bangladesh and around the world.
— Stavros N. Yiannouka, CEO of the World Innovation Summit for Education