Kayla Williams is a former sergeant and Arabic linguist in a Military Intelligence company of the 101st Airborne Division (Air Assault). During her deployment to Iraq, Williams was at the forefront of troops' interaction with Iraqis while also navigating the challenges of being part of the 15% of the Army that is female. She serves as an advocate on behalf of service members and veterans wrestling with invisible wounds of war such as Post Traumatic Stress Disorder (PTSD), Traumatic Brain Injury (TBI), and Military Sexual Trauma - as well as their families - and is an authority on women in the military and gender integration.
Williams is now a Senior Fellow and Director of the Military, Veterans, and Society Program at the Center for a New American Security. She served as Director of the Center for Women Veterans at the Department of Veterans Affairs for two years (2016-2018), where she was the primary adviser to the Secretary on department policies, programs and legislation affecting women veterans. Previously, she worked eight years at the RAND Corporation conducting research on service member and Veteran health needs and benefits. She is a member of the Army Education Advisory Committee, a former member of the VA Advisory Committee on Women Veterans, a 2013 White House Woman Veteran Champion of Change, and a 2015 Lincoln Award recipient.
Her 2005 memoir Love My Rifle More Than You: Young and Female in the U.S. Army, chronicles her experience as a female soldier in the U.S. army, and details the hardships of the soldiers and the Iraqi people they met during their tours of duty. Her memoir is a tale of female empowerment and self-discovery that provides an unvarnished behind-the-scenes look at what women experience while serving in the male-dominated military.
Her second memoir, Plenty of Time When We Get Home: Love and Recovery in the Aftermath of War, details her family's journey from trauma to healing after her husbandsustains a penetrating traumatic brain injury in combat and subsequently develops post-traumatic stress disorder. She reveals intimate and excruciating details of the challenges they encountered navigating complicated systems of care - and turning their struggles into lives dedicated to advocacy on behalf of others. After 5 years of service Kayla Williams left the U.S. Army and began the process of healing alongside Brian. She speaks about her time at war, her love and recovery with Brian, and improving systems and services for troops and veterans.
Williams has appeared on numerous media outlets including NPR, CNN, MSNBC, and Fox News to speak about her personal experiences and advocate for institutional changes related to gender equality in the military, caring for wounded warriors, and other topics.
An Ohio native, Williams graduated cum laude with a BA in English Literature from Bowling Green State University and earned an MA in International Affairs with a focus on the Middle East from American University.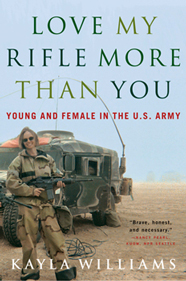 Love My Rifle More Than You
Kayla Williams is one of the 15 percent of the U.S. Army that is female, and she is a great storyteller. With a voice that is "funny, frank and full of gritty details" (New York Daily News), she tells of enlisting under Clinton; of learning Arabic; of the sense of duty that fractured her relationships; of being surrounded by bravery and bigotry, sexism and fear; of seeing 9/11 on Al-Jazeera; and of knowing she would be going to war. With a passion that makes her memoir "nearly impossible to put down" (Buffalo News) Williams shares the powerful gamut of her experiences in Iraq, from caring for a wounded civilian to aiming a rifle at a child. Angry at the bureaucracy and the conflicting messages of today's military, Williams offers us "a raw, unadulterated look at war" (San Antonio Express News) and at the U.S. Army. And she gives us a woman's story of empowerment and self-discovery.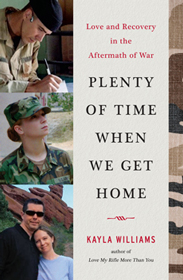 Plenty Of Time When We Get Home
Brian, on his way back to base after mid-tour leave, was wounded by a roadside bomb that sent shrapnel through his brain. Kayla waited anxiously for news and, on returning home, sought out Brian. The two began a tentative romance and later married, but neither anticipated the consequences of Brian's injury on their lives. Lacking essential support for returning veterans from the military and the VA, Kayla and Brian suffered through post traumatic stress amplified by his violent mood swings, her struggles to reintegrate into a country still oblivious to women veterans, and what seemed the callous, consumerist indifference of civilian society at large. Kayla persevered. So did Brian. They fought for their marriage, drawing on remarkable reservoirs of courage and commitment. They confronted their demons head-on, impatient with phoniness of any sort. Inspired by an unwavering ethos of service, they continued to stand on common ground. Finally, they found their own paths to healing and wholeness, both as individuals and as a family, in dedication to a larger community.
Kayla Williams at Chautauqua Institution
Women at War: Old Stories, New Voices
Kayla Williams on her book Love My Rifle More Than You
Appearing on the Alyona Show
Kayla Williams on "Plenty of Time When We Get Home"
Iraq War veteran Kayla Williams talks about her and her husband's return from Iraq and the major problems they faced reintegrating into American socie
Kayla Williams - Women Veteran Champion of Change
U.S. Department of Veterans Affairs. Celebrating the many accomplishments of women Veterans as Champions of Change.
Plenty of Time When We Get Home
"A must-read for military spouses, caregivers, and anyone hoping to gain an understanding of the challenges faced by soldiers coming home. Kayla and Brian's perseverance is a tribute to the power of the human spirit to not only survive but to thrive."
Marie Tillman, author of The Letter: My Journey Through Love, Loss & Life and founder of the Pat Tillman Foundation
"Part heartache, hard truth, love story, and an insider's look at the back end of war, this book offers us a look behind the uniforms and the parades and into the damage of war's wounds. In the end, it is a story about how love can ultimately heal."
Lee Woodruff, author of In an Instant and Those We Love Most
"Kayla Williams's raw, honest, and take-no-prisoners prose gives service members and families scarred by war the greatest gift of all―hope."
Tanya Biank, author of Lifetime TV's Army Wives and Undaunted: The Real Story of America's Servicewomen in Today's Military
Love You More Than I Love My Rifle
"You won't find another voice like Ms. Williams on your bookshelf, so unblinkingly candid, so aggressively raw and real."
Bob Shacochis, National Book Award winner, author of The Immaculate Invasion
Plenty of Time When We Get Home
"An Iraq War veteran chronicles the emotionally raw, disarmingly candid saga of herself and her fellow veteran husband returning to civilian life psychologically and physically wounded.
Williams previously shared her brutal saga of being female in a combat zone (Love My Rifle More Than You, 2005), alluding to it occasionally in this follow-up memoir. While in combat, she briefly met and felt close to Brian McGough. But he moved to a new assignment, where he suffered a severe brain injury from an explosive device. Stationed back in the United States, Williams located McGough, and they began a romantic relationship marked by threatened and actual violence due to his post-traumatic stress disorder and her undiagnosed psychological disabilities. Their military commands and the Veterans Administration seemed ill-equipped to deal sensitively and competently with such disabilities. In excruciating detail, Williams shares scenes from a marriage almost certain to explode. Even when she was away from her husband, Williams struggled with certain aspects of everyday life. Shopping alone in a gigantic Wal-Mart, she was overwhelmed by the variety of products, resentful that the civilian population was so spoiled, and anxiety-ridden that she could not view any store exits from the endless aisles of merchandise. Though counseling by civilians and military personnel occasionally helped both the author and her husband, progress toward a normal life seemed illusory—at best, one step forward and two steps back. How Williams and McGough partially conquered the demons, saved their marriage, began to rear children and helped countless other damaged veterans makes for an inspiring but never maudlin narrative. The memoir is certainly not a feminist tract, but Williams does examine the special adjustment problems of female combat veterans.
A brave book filled with gore and trauma—and superb storytelling. A perfect complement to David Finkel's Thank You for Your Service (2013)."
Kirkus Review
In October 2003, Brian McGough, "a soldier's soldier," was hit in the head by an IED (improvised explosive device) in Iraq. Shrapnel entered McGough's helmet behind his ear, "tearing through the scalp and skull." Sergeant Kayla Williams of the 101st Airborne Division, author of Love My Rifle More Than You: Young and Female in the U.S. Army (2005), met McGough while also serving in Iraq. After McGough returned stateside, they married. Awarded a Purple Heart, McGough was released from Walter Reed and sent back to duty even though he still had a hole in the back of his skull and was clearly suffering from post-traumatic stress disorder (PTSD). In this searing and brutally honest memoir, Williams chronicles all that McGough suffered at the hands of his own government and the subsequent long road to recovery. Indeed, Williams' anger is palpable and justified. "The government that was responsible for sending Brian off to war wasn't going to take care of us—we had to take care of ourselves." This is an important book for returning veterans trying to cope with civilian life and those suffering from a traumatic brain injury as well as their loved ones. And it should be required reading for everyone in health care and government agencies.
June Sawyers From Booklist
Love You More Than My Rifle
"...the account succeeds and even echoes military memoirists from Julius Caesar to Ernie Pyle...Williams's particular strength is in putting an observant, distaff spin on the bantering and brutality of barracks life, where kids from the Survivor generation must come to terms with a grim and confusing reality over which they have little control."
Publishers Weekly
"...it's a shocking, on-the-ground view of one military woman's experience in Iraq. Williams spares no details about the stress of combat, the questionable treatment of Iraqi prisoners, and her scathing opinion of the U.S. administration..."
"Whip smart, sassy, with a mouth as foul as a sailor's, 28-year-old Sergeant Kayla Williams, who has served as an Arabic interpreter in the U.S. Army since late spring 2000, tells what it's like to be a female soldier in Iraq. The best description might be "contradictory." Williams shares the humiliation she feels before her male army brethren, while admitting she enjoys the perks of being female in the military. She's ferociously loyal to her country and her unit but blisteringly critical of military ineptitude by those above and around her. She conveys stretches of mind-numbing boredom punctuated by the horrific realities of war. And she's only too aware of the complicated requirements of occupation: "We're here to help you!" she writes. "Oh, and shoot you--if we feel it's necessary." There are gaps in the story--for example, Williams doesn't entirely explain why she enlisted--but that's only one reason why this highly readable account will leave readers wanting more. Stay tuned, as Williams is on call--Inactive Ready Reserve.