Mark Mathabane touched the hearts of millions with his sensational memoir, Kaffir Boy. A book highly-praised by Oprah and President Clinton for inspiring hope, Kaffir Boy described the effects of South Africa's system of legalized racism and oppression on black lives in vivid prose. The book won the prestigious Christopher Award, was a finalist for the Robert F. Kennedy award, rose to No. 3 on The New York Times bestsellers list, and to No. 1 on the Washington Post list. It is required reading in schools across the country. Today, the book is used in classrooms across the U.S. and is on the American Library Association's List of "Outstanding Books for the College-Bound." The movie based on Kaffir Boy is set to begin filming next year in Alexandra, South Africa.
In his new book The Language of Ubuntu: How An African Philosophy Can Inspire Racial Healing in America (Skyhorse Publishing, December 2017), Mathabane uses his experiences with race in both South Africa and in America, where he has lived for the past thirty-seven years, to provide a fresh, timely, and provocative approach to the search for solutions to this country's number one and most intractable social problem.

About the Lecture
Mathabane argues that the reason many Americans are turned off by the current divisive racial dialogue is because the discussion has mostly been about the politics of race and avoids the elephant in the room—what each of us can do to become agents for racial healing. His solution is for people to learn to speak the language of Ubuntu, a Zulu word for common humanity. Mathabane shows how Nelson Mandela used such language to rally blacks and whites to abolish apartheid peacefully; and how Dr. King did the same thing for African Americans during the Civil Rights Movement in the battle to eradicate Jim Crow.

With race dominating the news during and since the 2016 Presidential election, in the wake of the killing of black men by the police, and growing protests on college and university campuses—Mathabane challenges both blacks and whites to use the language of Ubuntu to overcome the stereotypes, half-truths, misconceptions, and mistaken beliefs they have of each other so they can connect as human beings to achieve racial healing. Without this human connection, Mathabane argues, the racial divide will only get worse and make lasting solutions virtually impossible.
More about Mark Mathabane
Born of destitute parents whose $10-a-week wage could not pay the rent for their shack or put food on the table, Mathabane spent the first 18 years of his life as the eldest of seven children in a one-square-mile ghetto that was home to more than 200,000 blacks. A childhood of devastating poverty, terrifying police raids and relentless humiliation drove him to the brink of suicide at age ten. A love of learning and books and his dreams of tennis stardom, inspired by Arthur Ashe, carried him from despair, hate and anger to possibility and hope. His illiterate mother believed that education was the only way out of the ghetto. Her courage and sacrifice turned Mathabane's life around.

Mathabane did what no physically and psychologically battered "Kaffir" from the mean streets of Alexandra was supposed to do -- he escaped to tell about it. Tennis was Mathabane's passport to freedom. In 1978, with the help of 1972 Wimbledon champion Stan Smith, Mathabane left South Africa to attend an American university on scholarship. In 1983 Mathabane graduated cum laude with a degree in Economics from Dowling College in Oakdale, New York, where he was the first black editor of the college newspaper.

After studies at the Poynter Media Institute and the Columbia Graduate School of Journalism, Mathabane completed the manuscript of Kaffir Boy and went on to write several more books. He has appeared on "The Oprah Winfrey Show," "Today," CNN, NPR, "The Charlie Rose Show," "Larry King," and numerous other TV and radio programs across the country. His provocative articles have appeared in The New York Times, Newsday, U.S. News & World Report and USA Today. He has been featured in Time, Newsweek and People magazines. A sought-after lecturer, he was nominated for Speaker of the Year by the National Association for Campus Activities.
In 1989, Kaffir Boy in America, which continues the story of Kaffir Boy, was published by Scribner's and became a national bestseller following Mathabane's second appearance on Oprah. In 1992, Love in Black and White, a non-fiction book about interracial relationships and race relations in America, co-authored with his former wife, Gail, was published by HarperCollins. In 1994, Mathabane's fourth book appeared -- African Women: Three Generations, which describes the struggles, relationships and triumphs of three South African women who were heroines in Kaffir Boy -- his grandmother, mother and sister Florah.

In September 1997, Mark completed a one-year assignment as a White House Fellow at the Department of Education in Washington, D.C., where he helped implement several education initiatives.

His subsequent work of non-fiction, Miriam's Song, published by Simon & Schuster in 2000, tells the true story of his sister Miriam's coming of age during the turmoil and violence that preceded the end of apartheid and Nelson Mandela's election. His first work of fiction, Ubuntu, is a thriller set against the politically and racially tense backdrop of post-apartheid South Africa. His second novel, The Proud Liberal, tells the story of how a political candidate's daughter thwarts the deadly plans of domestic terrorists in North Carolina.

Mark continues to lecture and be involved with his charity, the Magdalene Scholarship Fund, which pays for books, school fees and uniforms for students at Bovet School in Alexandra, South Africa.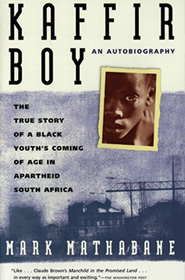 Kaffir Boy
The classic story of life in Apartheid South Africa.

Mark Mathabane was weaned on devastating poverty and schooled in the cruel streets of South Africa's most desperate ghetto, where bloody gang wars and midnight police raids were his rites of passage. Like every other child born in the hopelessness of apartheid, he learned to measure his life in days, not years. Yet Mark Mathabane, armed only with the courage of his family and a hard-won education, raised himself up from the squalor and humiliation to win a scholarship to an American university.

This extraordinary memoir of life under apartheid is a triumph of the human spirit over hatred and unspeakable degradation. For Mark Mathabane did what no physically and psychologically battered "Kaffir" from the rat-infested alleys of Alexandra was supposed to do -- he escaped to tell about it.
The book is frequently assigned in curriculum at schools throughout the world.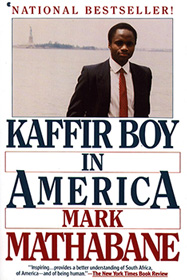 Kaffir Boy in America
Kaffir Boy in America is the sequel to Mark Mathabane's extraordinary autobiography, Kaffir Boy. The story begins with Mathabane's escape from South Africa to the United States, and recounts his coming of age in a country overwhelming in its immensity, luxuriousness, poverty, and despair. From his early college days when he first discovered the great black American writers, to his emergence as the voice of a new generation, from his reflections on America's racial and social injustice to his celebration of its basic freedoms, Kaffir Boy in America is a moving saga of hardship and determination, insight and inspiration, informed, above all, by Mark Mathabane's compassion for his fellow man.
Mark Mathabane, Kaffir Boy author on his mother's strength & courage
Describing how his mother helped her children survive hunger, poverty and brutal police raids under apartheid.
Mark Mathabane, Kaffir Boy on suicide attempt at age 10.
Describing his struggle to survive under the oppressive system of apartheid in South Africa.
PRAISE FOR KAFFIR BOY
"This is a rare look inside the festering adobe shanties of Alexandra, one of South Africa's notorious black townships. Rare because it comes from the heart of a passionate young African who grew up there."
Chicago Tribune
"Powerful, intense, inspiring."
Publishers Weekly
"An eloquent cry from the land of silent people, where blacks are assigned by whites to a permanent role of inferiority."
John Markham Reviews
"Compelling, chilling, authentic...an emotionally charged explanation of how it felt to grow up under South Africa's system of legalized racism known as apartheid."
Milwaukee Sentinel
"Despite the South African government's creation of a virtually impenetrable border between black and white lives, this searing autobiography breaches that boundary, drawing readers into the turmoil, terror, and sad stratagems for survival in a black township."
Foreign Affairs
"Told with relentless honesty...the reader is given a rare glimpse behind the televised protests and boycotts, of the daily fear and hunger which is devastating to both body and soul."
The Christian Science Monitor
PRAISE FOR KAFFIR BOY IN AMERICA
"A triumphant and inspirational book with profound insights about race relations, perseverance and the complexity of the 'American Dream.'"
San Francisco Chronicle
"An inspiring story...The glitz of America hasn't made Mark Mathabane forget that the struggle to free his homeland is still his struggle--and ours."
Chicago Sun-Times
"Relentless, open-ended, cautionary and quietly splendid."
Cleveland Plain Dealer