TRANSparency: Speaking Our Truths
A Panel Conversation with Trans Survivors of Domestic and Cultural Assault Featuring Contributors of the Book:
Written on the Body: Letters from Trans and Non-Binary Survivors of Sexual Assault and Domestic Violence, Edited by Lexie Bean. The book is a "50 Best LGBT Books of 2018" selection by Autostraddle.com and a 2019 Lambda Literary Award (Lammy) finalist.

REAL PEOPLE • REAL STORIES • GETTING BEYOND STEREOTYPES
Letter writers of Written on the Body: Letters from Trans and Non-Binary Survivors of Sexual Assault and Domestic Violence have come together to share excerpts with you, bringing trans voices to the forefront of the ongoing national dialogue surrounding sexual and gender-based violence. The panel takes audiences beyond stereotypes to meet real people and share real stories, to humanize and foster and understanding of the reality of being trans. It is only the the violence can be interrupted. It is our hope that by meeting our remarkable panelists, who like other trans people sometimes face harsh societal scrutiny and challenges, they will see that each one is just an individual living their lives and looking to pursue their dreams like anyone else.

About the Panel:
The program begins with each panelist presenting short readings of their letters from the book and/or their personal essays. It then transitions into a conversation among the panelists about the struggle to find safety at home, in the body, and other unwelcoming places. This also includes limited access to basic health care, counseling services, community support, as well as the court system, leaving trans people vulnerable to repetitive violence and assault. The panelists also discuss their deeply personal stories around what transitioning means for them, and how that has impacted their relationships with their own bodies, other people's bodies, and access to public spaces and a healthy dating life. The event concludes with a lively Q & A as an extended conversation with the audience.
About the Writing Workshop:
The Written On The Body Writing Workshop is an interactive, experimental writing experience led by contributors to the book Written On The Body: Letters from Trans and Non-Binary Survivors of Sexual Assault and Domestic Violence; a finalist for the 2019 Lambda Literary Awards. The workshop uses storytelling, visual art and light-movement for survivors seeking a safe place within their own bodies. Survivors will also have the space to acknowledge who they are outside of their relationships and labels, nurtured by mutual time for individual and group listening, self reflection and sharing. We are open to all gender expressions; there will also be a peer advocate available on site. The book's editor, Lexie Bean, can also discuss the process of curating and publishing the book.
MEET THE PANELISTS (Three will attend each engagement)
Lexie Bean Writer, performer, Myers Briggs INFJ, and curator of Written on the Body, their third anthology full of letters that people have written to their body parts. From writing for Teen Vogue, to documentary-making, to leading two international workshop and performance tours--much of their work revolves around themes of bodies, homes, cyclical violence, and queer foreshadowing. Next moves include writing a children's book, a screenplay, and eating more pizza.
Preferred Pronoun: "They"
Say hi at www.lexiebean.com or @oklexiebean on Instagram.
Sawyer DeVuyst is an artist, model & activist based in New York City. His work can be seen in Forbes, The Advocate, OUT Magazine, Barneys, Milk.xyz, VMan, Refinery29 and many others. He is a published writer and an anti-shame advocate for transgender folks of all/no gender/s. He is a shy Leo, a middle child and he lives with his 14-year old dog, Joey Carl, in NYC's Lower East Side.
Preferred Pronoun: "He" or "They"
Summer Minerva, MS Ed is a multi-disciplinary artist, educator, and polyglot. Their current performance and film work center the intersections of gender and spirituality and how identity labels inform our sense of who we are. Their performance work has shown around the world in New York City, Rio de Janeiro, and Napoli. They are currently in process with a full-length autobiographical documentary film which traces Summer's ancestry to the 3rd gender of southern Italy.
Preferred Pronoun: "She"

Alex Valdes is an experimental musician, performance artist, and Brooklyn, NY native. Using drag spectacle and power electronics as their alter ego Reagan Holiday, they continue to explore the dissonance, pain, and beauty of the trans masculine experience.
Preferred Pronoun: "He"
Nyala Moon is an actor, writer and filmmaker. A graduate of Baruch College, she is a New York native with southern roots. Nyala has had a love affair with cinema ever since she first saw Casablanca and The Good, the Bad and the Ugly with her grandparents. After working 6 years in the nonprofit community helping other transgender and queer people of color access affirming health care, Nyala took a leap of faith and pursued her passions for filmmaking. In early 2017, Nyala produced her first project, NOVA, a short film about a black trans women exploring the intersections of her life. In fall 2017, she directed and produced with Ariel Maher and Daquisha Jones , Bad Ally, a web series you can see now on youtube. Nyala ended 2017 working on her second film short film, Two Trans Women. Nyala is a contributing writer for the book, Written on the Body: Letters from Trans and Non-binary Survivors of Sexual Assault and Domestic Violence, edited by Lexie Bean. Nyala is currently working on her third short film, Cold Cornbread, which is to start principal photography in late July. She is working on launching a production company with her producing partner, Eileen Makak, to help other queer people tell their own stories. When Nyala isn't making films, she is working with youth at Housing Works, being a plant mom to her 20 house plants and taking portraits of her friends. You can catch her on instagram @nyalamoon.
Preferred Pronoun: "She"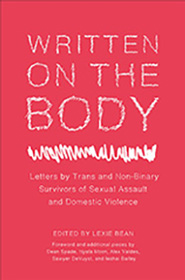 Written On The Body
Written by and for trans and non-binary survivors of domestic violence and sexual assault, Written on the Body: Letters from Trans and Non-Binary Survivors of Sexual Assault and Domestic Violence, edited by Lexied Bean, offers support, guidance and hope for those who struggle to find safety at home, in the body, and other unwelcoming places.
TRANSparency: Speaking Our Truths is a Panel Conversation with three Trans Survivors of Domestic and Cultural Assault who contributed to the book.
This collection of letters written to body parts weaves together narratives of gender, identity, and abuse. It is the coming together of those who have been fragmented and often met with disbelief. The book holds the concerns and truths that many trans people share while offering space for dialogue and reclamation.
Written with intelligence and intimacy, this book is for those who have found power in re-shaping their bodies, families, and lives.
"We had a full room of students, staff, and even parents ready to witness and contribute to this incredible conversation on challenging cultures of violence, exploring identity, and rewriting trauma narratives for collective healing. The audience was present and engaged as Lexie, Alex, and Nyala shared their personal letters written to body parts, talked about how the anthology has affected their lives since it was published, discussed barriers to accessing support that trans and gender non-conforming folks face, described what their dream futures of trans care and support could look like, and explored what questions they're countering and encountering during this particular political time.

As one student wrote, "For me, it touched upon areas of my own identity that I have often questioned because of experiences that have made me feel uncomfortable both in my identity and body. This panel was so impactful for trans/non-binary bodies who have experienced assault but were never taken into consideration within the movements calling out this kind of abuse." Another student said, "As a trans survivor of sexual violence, I am really grateful for the experience of hearing their stories and conversation with the audience, and walk a little lighter knowing that this intense intersection is being named and held with love."
And as a community located on a college campus, where issues of sexual violence and supporting survivors often come up, one of our staff members said, "As a violence prevention educator, I believe that half the battle in this work is making that which is invisible, visible. To break the silence and shame that so often surrounds experiences of sexual violence, particularly for queer and trans survivors, is an incredibly powerful form of resistance. And to bear witness to that was an honor."

Lexie, Alex, and Nyala were brilliant in their vulnerability, bringing both raw emotion and honest thoughts to the room, leading our audience in doing the same. It was truly a radical conversation, one that we rarely if ever hold in public, that is creating space for listening to trans survivors and shifting our experiences of violence together from individual defense to community care."
Maya Sungold, Relational Leadership Alumni Fellow
Hampshire College