Forty years of work on the African continent have carried Carol Beckwith and Angela Fisher across 300,000 miles and through remote corners of 45 countries in exploration of more than 200 African cultures. In the process, this team of world-renowned photographers has produced seventeen widely acclaimed books and made four films about traditional Africa. They have been granted unprecedented access to African tribal rites and rituals and continue to be honored worldwide for their powerful photographs documenting the traditional ceremonies of cultures thousands of years old. As an intrepid team of explorers, they are committed to preserving sacred tribal ceremonies and African cultural traditions all too vulnerable to the trends of modernity.
The Beckwith-Fisher images are the result of a long, enduring and deeply respectful relationship with African tribal peoples. This, combined with their photographic skills, creates an intimate portrayal of ceremonies long held secret that might have never been recorded. Their work preserves and presents the power, complexity and celebration found within the rituals of African tribal life.
Their extraordinary photographs are recorded in sixteen best-selling books and in their films. Their new book "Painted Bodies" (2012) follows "Maasai" (1980), "Nomads of Niger" (1983), "Africa Adorned" (1984), "African Ark" (1990), "African Ceremonies" (1999), "Passages" (2000), "Faces of Africa" (2004), "Lamu: Kenya's Enchanted Island" (2009), and "Dinka" (2010). The special limited-edition books, hand printed in Santiago, Chile, are titled "Surma," "Karo," "Maasai," and "Dinka."
"African Ceremonies," their defining body of work, is a double volume, pan-African study of rituals and rites of passage from birth to death, covering 93 ceremonies from 26 countries. This book won the United Nations Award for Excellence for "vision and understanding of the role of cultural traditions in the pursuit of world peace."
Honored twice with the Annisfield-Wolf Book Award in race relations for "outstanding contributions to the understanding of cultural diversity and prejudice," Angela and Carol are also winners of the Royal Geographical Society of London's Cherry Kearton Medal for their contribution to the photographic recording of African ethnography and ritual.
The photographers have made four films about traditional Africa, including Way of the Wodaabe (1986), The Painter and the Fighter, and two programs for the Millennium Series Tribal Wisdom and the Modern World. Numerous exhibitions of their photography and films have been shown in museums and galleries around the world. In 2000 their Passages exhibition opened at the Brooklyn Museum of Art featuring 97 mural photographs, six video films and a selection of African masks, sculpture and jewelry. This exhibition has traveled to seven museums on three continents.
Aware that traditional cultures in Africa are fast disappearing, Carol and Angela have been working with an urgency to complete their ongoing study of African Ceremonies with the goal of covering the remaining traditional ceremonies in the 13 African cultures they had not documented. Their latest double volume book and traveling exhibition, "African Twilight: Vanishing Rituals and Ceremonies", completes the journey begun in African Ceremonies, covering rituals and ceremonies from some of the most inaccessible corners of the continent. It is scheduled for release in Autumn 2018.
"We feel privileged to photograph these cultures that possess a wealth of knowledge that should be celebrated, shared, and honoured. It is our life's passion to document and create a powerful visual record of these vanishing ways of life for future generations." —Carol Beckwith and Angela Fisher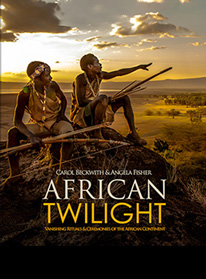 African Twilight: The Vanishing Rituals and Ceremonies of the African Continent
African Twilight is the two-volume, slipcased magnum opus of the two pioneering documentary photographers of African tribal cultures and ceremonies--a world that is quickly vanishing before our very eyes. Now, nearly two decades after these photographer's landmark African Ceremonies and with a greater sense of urgency, this book completes the journey, covering disappearing rituals and ceremonies from some of the most inaccessible corners of the African continent, to create the definitive statement on this subject.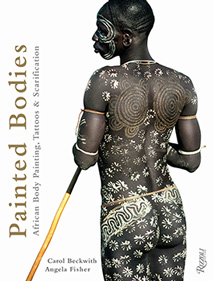 Painted Bodies: African Body Painting, Tattoos, and Scarification
The seminal volume on body painting and adornment by the world's preeminent photographers of African culture. Following the international masterpiece Africa Adorned, Carol Beckwith and Angela Fisher have focused on the traditions of body painting spanning the vastly unique cultures of the African continent. In a contemporary world so fascinated with tattoos and piercings, Beckwith and Fisher document the origins of these fashionable adornments as passed down through African tribal culture.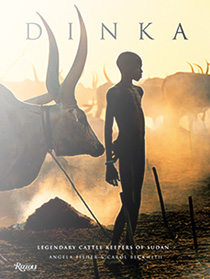 Dinka: Legendary Cattle Keepers of Sudan
This seminal volume on the indigenous African Dinka group is a landmark documentation of a vanishing people in war-torn Sudan. World-renowned photographers Angela Fisher and Carol Beckwith have devoted their lives to documenting the rapidly disappearing ceremonies and cultures of the indigenous people of Africa. In breathtakingly poignant images, they present a story that started with their first visit to the Dinka thirty years ago. Living in harmony with their cattle, the Dinka have survived years of war only to find their culture on the brink of vanishing forever. Where the White Nile River reaches Dinka country, it spills over 11,000 square miles of flood plain to form the Sudd, the largest swamp in the world. In the dry season, it provides abundant pasture for cattle, and this is where the Dinka set up their camps. The men dust their bodies and faces with gray ash—protection against flies and lethal malarial mosquitoes, but also considered a mark of beauty. Covered with this ash and up to 7' 6" tall, the Dinka were referred to as "gentle" or "ghostly" giants by the early explorers. The Dinka call themselves "jieng" and "mony-jang," which means "men of men."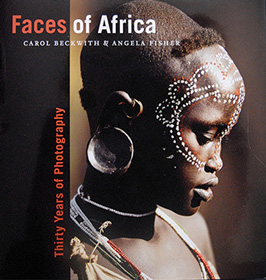 Faces of Africa: Thirty Years of Photography
Award-winning photographers Carol Beckwith and Angela Fisher present an unparalleled collection of 250 photographs, drawn from their work over thirty years, revealing an inclusive look at the people and cultures of Africa.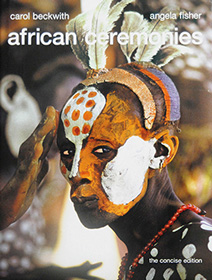 African Ceremonies
A stirring illustrated celebration of the vanishing tribal traditions of the African continent documents a wide range of ceremonies in words and pictures, including baby namings, initiations, weddings, harvest blessings, coronations, healing exorcisms, and funerals, among many others.
See More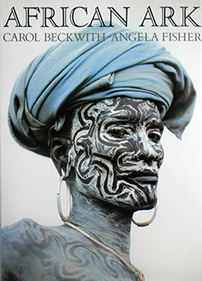 African Ark
Two talented photographers focus on the Horn of Africa--an "ark" that shelters an astonishing variety of landscapes and human societies. Starting with the Christian Amharas of Lalibela and Axum and the Falashas of Lake Tana, they complete an arc that takes them to the seacoast of Eritrea, Djibouti and Somalia, as far south as Lamu in Kenya, and finally to the remote peoples of the Southeast who still engage in stick fighting, body painting, scarification and the wearing of lip plates. Other handsome peoples they depict include the desert-dwelling Afar, Beja and Rashaida, the Somali nomads of Ogaden and the ecstatic Oromo (formerly Galla) pilgrims of the Bale Mountains. — Publisher's Weekly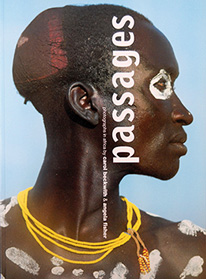 Passages: Photographs In Africa
A collection of eighty-nine full-color photographs from the widely-praised best-seller African Ceremonies, offers images from across the African continent, capturing the traditions of rites of passages, including births, marriages, and deaths, along with seasonal rituals and religious ceremonies. The photographers and explorers Carol Beckwith and Angela Fisher who have been photographing ceremonies and rituals in Africa for over 40 years.
Interview with Carol Beckwith & Angela Fisher: Photographers of African rituals and ceremonies
Speaking about their experiences as women photographing in Africa.
NG Live: Carol Beckwith & Angela Fisher
Scenes From the Field: Photographing Secret Ceremonies in Africa.
Explorers Club: Carol Beckwith and Angela Fisher interviewed on photographing in Africa
Insights into the photographers experiences and observations from photographing ceremonies in Africa
Interview Carol Beckwith & Angela Fisher (February 8, 2017)
Interview for book. The Female Lead, that featured Carol and Angela about women who are pioneers in their field
"Beckwith and Fisher have done more than anyone to awaken the world's appreciation of everything African, from adornment to the rapidly vanishing ceremonies."
Peter Keller, PhD, President of the Bowers Museum, Santa Ana, California
"Carol Beckwith and Angela Fisher are not only truly remarkable photographers, but their dedication to preserving for all time the dazzling diversity of African ceremonies is unparalleled. Their celebration of Africa cultures will forever serve as the most compelling and passionate portrayal of the splendor of human creativity from the very continent that gave rise to all humanity."
Don Johanson, Director, Institute of Human Origins, Arizona State University