Tish Lampert is a photojournalist, writer, podcast host of "America Speake," and the author of the forthcoming book, WE PROTEST: Fighting for What We Believe In. The book will be published by Rizzoli in early March 2020. Lampert's work focuses on human rights issues. She covered the 1992 riots in Los Angeles; the Cesar Chavez movement for migrant worker's rights and, for ten years, worked with the Navajo Nation in Tuba City and Window Rock, Arizona. Her "in the field" investigations include: Human Rights Watch, The Fund For Peace, Concierge, N.O.W. (National Organization of Women), The Africa Project, The Los Angeles School District, Tap-Tap, The Los Angeles Conservancy and US Doctors Without Borders. Art Miles Mural Project has used Lampert's images to represent them internationally. In 1994, Lampert was hired to document the Soldier of Fortune convention at the Sands Hotel, in Las Vegas. That assignment provided a rare opportunity to photograph mercenaries, and future war profiteers.
For five years she served as media director and photographer for Voices of African Mothers at the United Nations. Lampert's photographic work focuses on human rights issues; documenting in-depth stories from those on the frontlines of today's most compelling challenges. Ms.Lampert's eighteen years of chronicling U.S. citizens exercising their First Amendment Rights has evolved into the book titled, WE PROTEST: Fighting for What We Believe In.
Ms. Lampert is a 2013 recipient of a Nathan Cummings Family Foundation Grant for this project. The book is endorsed by Martin Sheen, Harry Belafonte, Dennis Macdougal, and Greg Palast. Ms. Lampert exhibited this work at the United Nations, 2013. Photographs from this collection were featured at PHOTO LA, 2016. In January 2018, the America Speaks Podcast launches. Lampert is a part of a group exhibition: Getty: LA/LA ephiphany and the Chicano Movement at the Church of the Epihpany. Ms. Lampert's photographs are apart of numerous private collections both corporate and individual.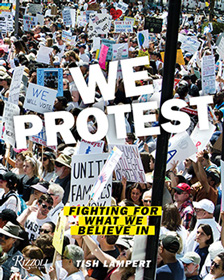 We Protest: Fighting For What We Believe In
Tish Lampert's book, WE PROTEST: Fighting For What We Believe In, and now visual lecture, is a call to action--inspiring citizens to stand up and fight for social justice in our nation. Lampert presents a visual history, capturing the spirit of the heroes and ordinary citizens on their activist journey to defend their American values during the most conflicted era in our recent history. Her book, WE PROTEST, and now illustrated lecture, charts the chronology of social-change movements that have dominated the headlines over the past several years: the fight for women's rights and gender equality, immigration rights, civil liberties, gun violence, and the environment. Lampert takes us to the front lines of activism, where she has documented each protest and their respective leaders, as well as the legions of ordinary Americans standing together to protect the values of our great nation.
See More
Images of the history of the civil rights movement viewed by generations yet unborn is a vital contribution to the growth of our nation. For us to not know our history is to leave us eternally vulnerable to repeating the horrors we have in the past created. Equally important is to see the human diversity that went into overcoming the forces that sought to deny our common humanity. This collection, We Protest Fighting For What We Believe In, is a gift that should be in everyone's possession so as to help us understand the courage it took to overcome those forces that fuel our capacity to constantly self- destruct." Harry Belafonte — Singer, Songwriter, Actor, Activist
"One of us can be dismissed. Two of us can be ignored. But together we are a movement and we are unstoppable." Cecile Richards — Former President of Planned Parenthood
Let us continue to honor what is so beautifu l about being feminine. We are mothers, we are caregivers, we are artists, we are activists, we are entrepreneurs, we are doctors, we are leaders of industry and technology. Our potential is unlimited. We will not allow our bodies to be controlled by men in government, or men anywhere for that matter." Alicia Keys — Musician, Songwriter
"Through Tish Lampert's We Protest Protecting The America We Believe In, we view a clear reflection of who we are, who we can become, and a powerful reminder that basic human rights are not given by the gracious hand of any state that must be protected therein." — Martin Sheen
"We Protest" is a graphic reminder of the vigilance required from each of us to ensure that our democracy remains vital. Hers is a call to action that we exercise our rights as citizens, and our responsibility as Americans to make our voices heard. Howard Gordon — creator, writer, producer of 24 and Homeland