Tish Lampert is a photojournalist, writer, podcast host of "America Speaks," and the author of WE PROTEST: Fighting for What We Believe In. (Rizzoli, 2020). Lampert's work focuses on human rights issues. She covered the 1992 riots in Los Angeles; the Cesar Chavez movement for migrant worker's rights and, for ten years, worked with the Navajo Nation in Tuba City and Window Rock, Arizona. Her "in the field" investigations include Human Rights Watch, The Fund For Peace, Concierge, N.O.W. (National Organization of Women), The Africa Project, The Los Angeles School District, Tap-Tap, The Los Angeles Conservancy and US Doctors Without Borders. Art Miles Mural Project has used Lampert's images to represent them internationally. In 1994, Lampert was hired to document the Soldier of Fortune convention at the Sands Hotel, in Las Vegas. That assignment provided a rare opportunity to photograph mercenaries and future war profiteers.
For five years she served as media director and photographer for Voices of African Mothers at the United Nations. Lampert's photographic work focuses on human rights issues; documenting in-depth stories from those on the frontlines of today's most compelling challenges. Ms.Lampert's eighteen years of chronicling U.S. citizens exercising their First Amendment Rights has evolved into her book, WE PROTEST: Fighting for What We Believe In.
Ms. Lampert is a 2013 recipient of a Nathan Cummings Family Foundation Grant for this project. The book is endorsed by Gloria Steinem, Martin Sheen, Harry Belafonte, Dennis Macdougal, and Greg Palast. Ms. Lampert exhibited this work at the United Nations, 2013. Photographs from this collection were featured at PHOTO LA, 2016. In January 2018, the America Speaks Podcast launches. Lampert is a part of a group exhibition: Getty: LA/LA epiphany and the Chicano Movement at the Church of the Epiphany. Ms. Lampert's photographs are a part of numerous private collections both corporate and individual.

About Tish's Lecture (Illustrated):

"For five decades now I have been on the trail documenting and celebrating our American voices, portraying our activist movement photographically with a spotlight on the landmark and everyday heroes who have led the way for generations of Americans. What I have seen in my fifty-year journey reflects the vast and complex sea change that I have witnessed since I first picked up my camera in 1967. I don't look at the work I do through a political lens but prefer to explore the human face of what is at stake. These are times that require us to get out of our comfort zone to let our guards down and listen to those whose way of thinking we have not been open to hearing. We need to build bridges to each other or we will continue to build walls that keep us apart." — Tish Lampert, Photojournalist, Author & Podcast Host
Tish's program presents photographs that examine our bold differences, across generations and issues, revealing our human similarities and sharing the ever-present hunger to speak our truth and fight for what we believe in. Her talk embodies celebrating this American tradition by examining activism through the stories of everyday Americans she has met along the way who have taught her what it means to put our bodies in the way of injustice.

And, as well, she shares some of the amazing experiences she has had with more recognizable heroes like 91-year-old Granny D ( Doris Haddock), Betty Freidan, Ossie Davis, Gloria Steinem, Harry Belafonte, John Lewis, Gore Vidal, Martin Sheen, Tom Hayden... As we track our social justice imprint today we must ask ourselves; Where have we been most effective? Where have we failed? Why are we still fighting the same fight, for women and the disenfranchised? How do we maintain our momentum when we are burnt out? She believes we recharge with every fight because it is so personal. At the end of the day she believes we must look to younger generations. Through their eyes, she sees greater tolerance, courage, and innovation to make lasting change.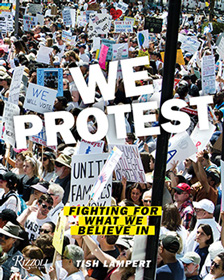 We Protest: Fighting For What We Believe In
Tish Lampert's book, WE PROTEST: Fighting For What We Believe In, and now visual lecture, is a call to action--inspiring citizens to stand up and fight for social justice in our nation. Lampert presents a visual history, capturing the spirit of the heroes and ordinary citizens on their activist journey to defend their American values during the most conflicted era in our recent history. Her book, WE PROTEST, and now illustrated lecture, charts the chronology of social-change movements that have dominated the headlines over the past several years: the fight for women's rights and gender equality, immigration rights, civil liberties, gun violence, and the environment. Lampert takes us to the front lines of activism, where she has documented each protest and their respective leaders, as well as the legions of ordinary Americans standing together to protect the values of our great nation.
See More
Uncle Bobbie's Presents: Tish Lampert "We Protest"
Uncle Bobbie's speaks with author and photojournalist Tish Lampert about her groundbreaking work "We Protest: Fighting For What We Believe In"
World Oregon Presents We Protest: Fighting For What We Believe In— panel discussion with Tish Lampert, et al
In her newly published book, We Protest: Fighting For What We Believe In photojournalist Tish Lampert who has been documenting protests for over 20 ye
Tish Lampert Photography Featured in SoCalACLU Bill of Rights Awards
Songwriter Diane Warren presents Meghan Kahir singing her song "Somehow You Do" at SoCalACLU Bill of Rights Awards with photography Tish Lampert
Pulitzer Prize winning David Shipler recites his forward to Tish Lampert's book WE PROTEST with Tish's photos
Hear Pulitzer Prize winning author David Shipler recite his forward to photojournalist Tish Lampert's book WE PROTEST with her photographs.
"Tish Lampert's images show us the diversity of America, and prove that democracy, like a tree, grows from the bottom up, not the top down. She brings us the faces we may have been missing during our recent period of isolation."
Gloria Steinem
"Images of the history of the civil rights movement viewed by generations yet unborn is a vital contribution to the growth of our nation. For us to not know our history is to leave us eternally vulnerable to repeating the horrors we have in the past created. Equally important is to see the human diversity that went into overcoming the forces that sought to deny our common humanity. This collection, We Protest Fighting For What We Believe In, is a gift that should be in everyone's possession so as to help us understand the courage it took to overcome those forces that fuel our capacity to constantly self-destruct."
Harry Belafonte — Singer, Songwriter, Actor, Activist
"One of us can be dismissed. Two of us can be ignored. But together we are a movement and we are unstoppable."
Cecile Richards — Former President of Planned Parenthood
"Let us continue to honor what is so beautiful about being feminine. We are mothers, we are caregivers, we are artists, we are activists, we are entrepreneurs, we are doctors, we are leaders of industry and technology. Our potential is unlimited. We will not allow our bodies to be controlled by men in government or men anywhere for that matter."
Alicia Keys — Musician, Songwriter
"Through Tish Lampert's We Protest: Fighting for What We Believe In is Protecting The America We Believe In, with a clear reflection of who we are, who we can become, and a powerful reminder that basic human rights are not given by the gracious hand of any state that must be protected therein."
— Martin Sheen
"We Protest" is a graphic reminder of the vigilance required from each of us to ensure that our democracy remains vital. Hers is a call to action that we exercise our rights as citizens, and our responsibility as Americans to make our voices heard.
Howard Gordon — creator, writer, producer of 24 and Homeland
"WE PROTEST is a powerful book that I am sure will move a lot of people. It is an important reminder that there are tremendous numbers of Americans who care deeply about our country and critical issues that we as a society can address. It's a great shot in the arm to lift the spirit of those who come together to keep our Democracy alive."
Bobby Muller — Founder, The Vietnam Veterans of America Foundation, Co-Founder, The International Campaign To Ban Landmines Co-recipient, The Nobel Peace Prize (1997)
"America was founded on protest. Protest is literally part of our DNA, and in a moment when justice, freedom and democracy themselves are imperiled, remembering "the right of the people peaceably to assemble, and to petition the Government for a redress of grievances" seems more important now than at any time in the last 50 years. Tish Lampert has captured what "fighting for what we believe in" in America looks like, in her timeless, yet eminently timely and beautiful book, "We Protest."
Ali Velshi - MSNBC, Journalist, Anchor and Producer
"We Protest..." shows us the power of community and ensures that those who have been frontline peace and justice builders will inspire us in the present and shape future commitments with their eloquent, multifaceted, and brave truths. There is nothing more important. These insightful and beautiful images tear the apathy away and compel us to stretch upward and be better upstanders.
Maya Soetoro- Ng ( Founder and COO of The Peace Studio and Barack Obama's sister )
"One of the things that is great about this book is that it carries you along in a universe of hope and commitment to the highest ideals of the nation. The photographs are so powerful, the faces are so moving. It's a Remarkable history of this time, something that you will keep forever and show your children and grandchildren down to generations. It really crystalizes the moment."
Pulitzer Prize winning journalist and author David Shipler
Tish Lampert's We Protest inspires. Its subtitle is FIGHTING FOR WHAT WE BELIEVE IN, and the inspiring pictures of caring faces coupled with insightful words express a beautiful spirit behind the "fight". Enrique Morones statement, "Love is an action, not just a word," captures aptly the message of this unique book which is an invitation to join together for justice, peace, and, for the boldest word of all, for love.
Jonathan Granoff, President Global Security Institute